LIVE! | Stone Sour with In This Moment and Hell or Highwater
by Jonna Ambur
– Senior Photojournalist —
APRIL 9, OAKDALE THEATER, WALLINGFORD CT —
Hell or Highwater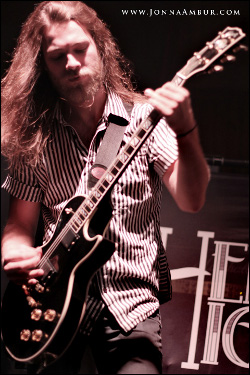 Begin Again was released in August 2011. It's not often that the first band up plays to a full crowd, but with Hell or Highwater in the house, the Oakdale Theater was full, and the fans were ready to go!!
In This Moment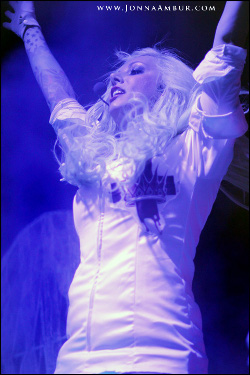 In This Moment made its way through the black light that engulfed the stage. Chris Howorth (Guitar), Travis Johnson (Bass), Randy Weitzel (Guitar) and Tom Hane (Drums) set the stage for Maria Brink's (vocals) grand entrance. She was dressed in white, and the light glowed off her white corset and cloak. With fog machines and fans set on high, Maria graced the stage amidst deafening screaming. The band's entire set was heavy, yet sexy, metal and erotic. Performing songs, such as "Rise With Me," Whore," "Beast Within" and their newest hit "Blood," In This Moment rocked!
Stone Sour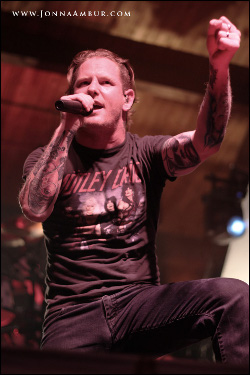 The infamous Corey Taylor (vocals), also of Slipknot, with James Root (guitar), Josh Rand (guitar), Shawn Economaki (bass) and Roy Mayorga (drums) closed the night with the force of a tank plowing through the Oakdale Theater's dome. The energy was epic, and was was felt to your core. Every song and every note was delivered with emotion and strength.
Touring in support of the band's newest releases House of Gold and Bones I and II, they performed favorites, such as "Absolute Zero," "Made of Scars," "Reborn," "Bother," "Say You'll Haunt Me" and 30/30-150." The band killed it. While they didn't perform any songs from House of Gold and Bones II, which was released the day of the show, the fans sang along with every hit they belted out. Stone Sour puts on one hell of a show each and every time. If you can catch them on their current tour, do it.
LIVE! |Stone Sour with In This Moment and Hell or Highwater Photo Gallery
[Photos by Jonna Ambur]