Lynch Mob | Unplugged: Live From Sugarhill Studios
by Alissa Ordabai
– Senior Columnist —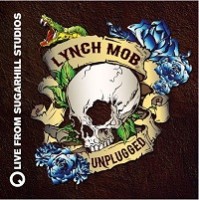 Space-rocking Lynch Mob oldies sound vividly intimate on this EP, managing to avoid the OTT pathos which usually infects most rock anthems when performed unplugged. Laid back but focused, the band projects a warm-hearted feel without overcompensating for sonic transparency with exaggerated inflection. Oni Logan's vocals sound gutsy and poignant, but tastefully balanced with the other instruments, and bare-bones sparsity of Lynch's guitar shows both bite and poise.
The energy is compelling: conveying a grown-up, but at the same time romantic vibe, it brings to mind the image of weathered hunters gathering in front of a fire with guitars after a day of prowling the wilderness. Fantasies aside, all this was recorded not outdoors, but at Sugar Hill Studios in Houston, Texas. Which proves yet again that real artists can create a vibe anywhere they choose.
The entire performance was filmed by producer Ross W. Wells (Zen Film) for an upcoming episode of "Live from Sugar Hill Studios." A preview on YouTube shows musicians in top form giving old material a newly found edge. And as with all great rock music, these songs not only withstands the confines of a stripped-down acoustic setting, but show us why this format to this day remains so important.
Genre: Hard Rock
Personnel:
George Lynch – guitars
Oni Logan – vocals
Robbie Crane – bass
Brian Tichy – guitar
Tyson Sheth – percussion
Track List:
1. River of Love
2. Where Do You Sleep at Night
3. All I Want
4. Wicked Sensation
5. Bonus Interview track
Label: Rat Pak Records
Online: http://ratpakrecordsamerica.com/lynchmob.cfm
Hardrock Haven rating: 7/10