Mike Tramp | Cobblestone Street
by Derric Miller
– Managing Editor —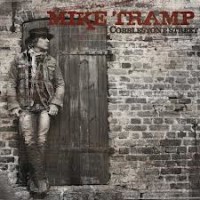 Gone are the days when Denmark's Mike Tramp will hold high a sword and sing about roads leading to Valhalla, about everyone burning in Hell, about lonely nights or about asking you to wait. Instead, Tramp has evolved into more of a folky storyteller on his new solo effort, Cobblestone Street. (At least he still sings about crying children, and you'll hear a new version as a bonus track.)
Cobblestone Street is Tramp's sixth solo effort, and the title track greets you when you hit "play." "Cobblestone Street" is Tramp looking back on his childhood, with lyrics telling the story, "This place I once called home, where my mom raised three boys on her own." It's a simple composition that succeeds because of that. With everything stripped away to acoustic guitar, understated keys and Tramp's unique vocals, you know this song is from the heart. It may remind you of a Stage Dolls' ballad.
The first single is "New Day," one of the more chipper creations on the release. While most of the album is melancholy and mellow, "New Day" is Tramp telling you that life isn't all that bad and only you can make it better. "You can change it, rearrange it … you can change it, make it all new again." If "sing-songy" is a word — and even if it's not — then that's the best descriptor for this track.
While it's true Tramp can sing uplifting when he wants to, he draws in the listener when he goes bleak. That's exactly what he does on the next song, "Ain't the Life I Asked For." Now we have barroom harmonica and a crisp, stark riff surrounded in words like "This ain't the life I wanted to live, now it is what I've become" and "When your life falls apart at the end, there's nothing, nothing at all …" High five, Mike!
Tramp dedicated the album to his children, and he spins magic when unearthing his emotions for them in song. "We'll Be Alright" is a forlorn, breathy composition, and if you still have tear ducts they might kick start upon hearing it. When Tramp sings "I see it in your eyes, the childhood wounds you can't disguise," it gives you an inkling that the guy who co-wrote "When the Children Cry" is still around.
Keeping with the downtrodden and bereft theme, you land at "What Are You Gonna Do?" At first, when the keys play in the background and Tramp sings about no food in the cupboard, the phone stopped ringing since they cut it off, letters in the mailbox cold be six months old and just one window that isn't broken in the house … you may be thinking "Mike Tramp needs an energy drink and a hug." He flips the script though, and near the end of the song he tells the listener "so give it a try, spread out your wings and fly." The song ends with him asking you … so what are you gonna do? It's a call to arms, not a funeral hymn.
Most of his fans will be interested in the Tramp and Vito Bratta, White Lion song "When the Children Cry," the bonus track on Cobblestone Street. It's always risky remaking a classic, especially when you change the music, when the vocals are delivered at a different rhythm and in different notes than the original … and you don't have that immense guitar solo build up. It's Tramp's track, and he can do whatever he wants. It doesn't match the original, but it's a unique take and fits perfect with the tone on the rest of the release.
Hard rockers who still crank White Lion and Freak of Nature need to slow down, take a breath, and realize everyone eventually grows up. Well, almost everyone. Tramp states on his press release for Cobblestone Street that his inspirations for this album are Bob Dylan, Neil Young and Bruce Springsteen. Don't expect Tramp to tell ya baby all through the night but instead sing you stories about real life, human emotions and the human condition. It's as honest an album you can hear today.
Genre: Rock, Folk
Band:
Mike Tramp: acoustic guitar and vocals
Soren Anderson: guitar, piano, keyboards, bass, drums, harmonica
Track Listing
1. Cobblestone Street
2. Caught In The Storm
3. New Day
4. Ain't The Life I Asked For
5. Revolution
6. We'll Be Alright
7. Angel Or Devil
8. Find It In Your Heart
9. What Are You Gonna Do?
10. Once
BONUS TRACK
11. When The Children Cry (2013 Acoustic Version)
Label: Cleopatra Records
Website: miketramp.dk
Hardrock Haven rating: 8.2/10