'Nasty' George of Cyanide 4
by Nikiforos Skoumas
– Columnist —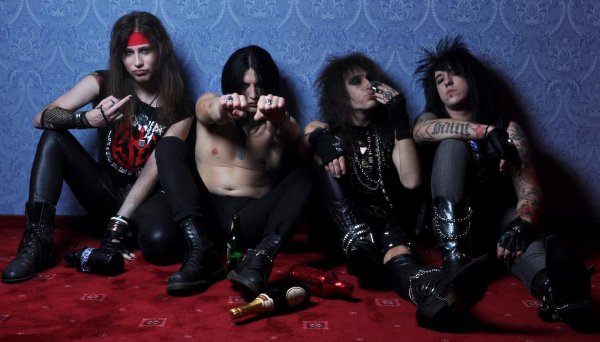 Cyanide 4 were arguably the first Greek sleaze band to give the audience the full package from the looks, to the songwriting, to the recordings, to the videos, to the artwork, they have it all. Cyanide 4 have opened shows for The Scorpions, W.A.S.P., Lizzy Borden, Ten and Crashdiet amongst many others. We caught up with bassist 'Nasty' George he delivered the latest news from the Cyanide 4 camp.
Hardrock Haven: It has been almost a year since your debut album Everyday is a Masquerade was released internationally, what has the market reaction been so far?
'Nasty' George: Yeah, our first album has been out there for about 10 months, issued by Perris records … After two years of struggling to offer something really great, Everyday is a Masquerade was finally released last summer. The album is our collective effort, thoughts 'n' feelings during the first four years of the band's existence…and the good news is that we got a lot of support from the international market, as our record company tells us … Numerous radios, webzines and fanzines internationally presented the album- plus- it received great reviews!! Also our fan base in our home country supports us in the greatest way possible! That gives us strength and motivation to take it to the next level that being a far better second album!
Hardrock Haven: Somewhere between the release of your EP Critical Mental Erosion and your full length album you introduced Alex Rated as the new drummer of Cyanide 4. How did that come about?
'Nasty' George: That's true, we were looking for a drummer who could fit with us both musically and as a person … we knew Alex Rated and at that time he wasn't in a band so we tried to get in contact with him and get to know him better … it didn't take long for him to become our new drummer! We believe having Alex on drums makes for our greatest line up ever; Alex comes out as the perfect guy for this position, coz' he contributes in songwriting and backing vocals … and of course, drumming!
Hardrock Haven: By the time your debut was released, you already had three official videos collecting views on YouTube (the promo videos for "Live the Life" and "Midnight Heat" plus a live video of "Wasting My Time"). How important is it for a young Sleaze-glam band to have this much audio-visual representation and how have those promo videos helped Cyanide 4?
'Nasty' George: From Everyday… we decided to release two official music videos. The first one was for "Live the life", a catchy tune with a party feeling n' some good lyrics. The second one was for the song "Midnight Heat", a power-ballad, a fan-favorite song and- in my opinion- one of our classic tunes. We also did a promo video for the song "Wasting My Time", comprised of live footage from a gig in which we supported the legendary Scorpions. You have to check it out, coz' you can see Cyanide 4 performing their fastest-most energetic-in your-face-song in front of a big crowd! In these times I find that if you want to take your act to the next level in the music business, you must give the audience the best quality from your music, image and sound!! Also, thanks to social networking (YouTube, etc) it's much easier to promote your work … and the fans are hungry, they always want the best, and we want to compete with the top bands, so we try to do our best!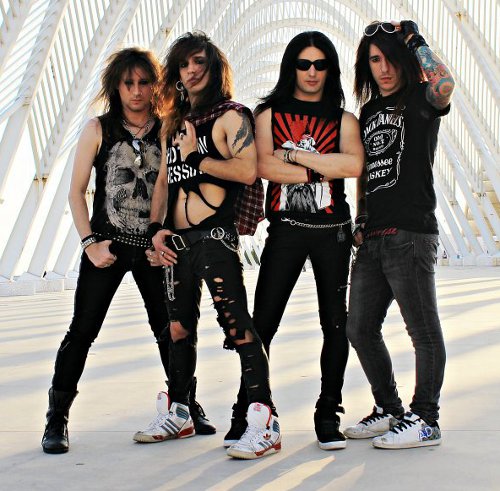 Hardrock Haven: What is your relationship like with your current record label Perris Records which is the home of other Greek hard rock acts?
'Nasty' George: Perris records have signed some of the best and better-known Greek bands in hard rock … that only goes to show that Greece can rock hard in hard times … we are very satisfied with their work and promotion, it's a very good label with particular experience in glam, sleaze and hard rock!
How close are we in getting a second full length album or EP by Cyanide 4; have you begun any songwriting and recordings for a follow-up release?
'Nasty' George: We are working on some new songs for our second album and we hope to start the recordings this summer! You're going to have a little taste of this, something like a new single and music video of a new song, which will be a precursor to the second album!
Hardrock Haven: Do any of Cyanide 4 have any side-projects and if so what is their current status?
'Nasty' George: Nope … we are focused on Cyanide 4!
Hardrock Haven: Beyond the music itself, from the very beginning you had plenty of hand-drawn artwork on your promo material and memorabilia overall (most notable being the 'four-skulls' poster and the 'broken toilet' shirt). Who draws the artwork for Cyanide 4?
'Nasty' George: Cool question! First of all, the "broken toilet" shirt was our first, and was hand painted by a friend of ours, in the early days of Cyanide 4 … we love it coz' it's old-school and unique! The "4 skulls" and all the new drawings, artworks, posters, etc are done by our very good friend Spiros … we met during our show with Crashdiet in 2010 and he became our most dedicated fan!
Hardrock Haven: As a rock band that markets systematically both albums and memorabilia (T-shirts etc), from your experience, which of the two sells the most, which is more profitable these days?
'Nasty' George: Hmmm… personally if I like a band I would try to get an album and then a T-shirt … for me music always comes first … but I have noticed that most of the fans who choose to get our songs from i-Tunes or album download have a preference for T-shirts! A well-organized merchandising scheme with awesome T-shirts and cool gadgets is something that every band would like to have to offer to their fans, and we are trying to get there!
Hardrock Haven: Are there any plans for international live dates, European or American and is there any chance of going on tour with some other glam-sleaze act?
'Nasty' George: We're gonna do a couple of shows here in Greece to celebrate our 5 years as a band! Then we'll focus on the recordings for the second album, and soon after we'll be on stage again! A euro-tour is always in our mind … as for the US, we would love that, and if at all be possible, we'll be there!
Hardrock Haven: Finally is there anything that we missed out on, that you would want the fans to know?
'Nasty' George: Hmmm… just stay tuned and wait for some good stuff! Thanks for the support! We are truly grateful!
Official Facebook page: https://www.facebook.com/Cyanide4