Patrick Hemer | More Than Meets the Eye
by Jenn Carbaugh
– Columnist —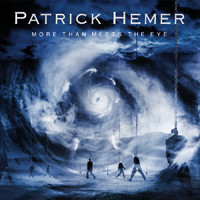 More Than Meets the Eye is the perfect title for this album by Patrick Hemer, who is a well acclaimed studio musician and guitar instructor. His recognition is paired with the early 2000's while he was the front man and worked the fret-boards of the German metal band Horizon. He recorded a few albums with them, but his recent album certainly projects him in the light of an intensely talented musician and a brilliant guitar player.
As the producer and the musician of More Than Meets the Eye, Hemer out does himself with the eclectic riffs and scales performed on this album. His soloing work on guitar plays well with his wide variation vocals. Altogether, he sings, plays the guitar, plays bass and keyboard, and contributes to the programming on the album.
The beautiful sound that comes from Hemer's Jackson guitar and with DiMarzio pickups is something comparable to a symphony of rock for this one man show. The album not only features Hemer's lyrics and clean voice, but there are strictly instrumental tracks as well. "Firelight" and "Terra Incognita" are full instrumental and really expose the ability that Hemer puts behind his work.
This album, like the style of Hemer, shows a lofty amount of promising notions. There are quick paced tracks like "Thorn in my Flesh." There are also ballad type songs like "For All Eternity." This album really belongs to Hemer, and it's definitely one he should be proud of. For a man who does it all, there was a lot of metal greatness achieved within these compositions.
Genre: Progressive Metal
Band:
Patrick Hemer – vocals, guitar, bass, keyboard, programming
David Casanova – keyboards
Tom Wagner – drums and percussion
Track Listing:
01. Up From the Ashes
02. Thorn In My Flesh
03. Edge of Insanity
04. For All Eternity
05. Firelight
06. The Godfather
07. Panem Et Circenses
08. Legend In Your Own Mind
09. Death On Two Legs
10. Guilty
11. Terra Incognita
Label: Nightmare Records
Website: www.patrickhemer.com
Hardrock Haven rating: 6/10