Raped Ape | Land of Broken Promises
by Justin Gaines
– Senior Columnist/News Editor —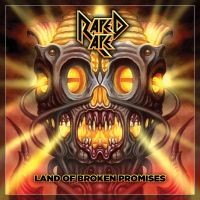 The Florida metal scene in the late '80s and early '90s is best known – and rightly so – for death metal bands like Obituary, Death and Cynic, but there were some noteworthy thrash bands operating at the time, one of which was Raped Ape. The band played thrash metal not too far removed from bands like Overkill, Testament and Exodus, but with a noticeably heavier, more aggressive bent. It probably wasn't possible for a thrash band to operate during the Florida death metal heyday without some of that scene's energy bleeding into your own sound. Still, there are times when the sheer heaviness of the rhythms or the harsher vocals will have you doing a double take. This definitely isn't "thrash by numbers" like so many other thrash bands of the time. Raped Ape was about as heavy as thrash gets, and they had an intensity that just bursts off the discs, even all these years later. Raped Ape released just one EP – 1992's Terminal Reality before changing their name to Paingod for a lone Century Media release, but there were some very impressive demos recorded between those two releases.
Released in time for the 20th anniversary of Terminal Reality, Divebomb's new collection Land of Broken Promises collects a hefty amount of vintage Raped Ape material in one very impressive two-disc set. It includes the Terminal Reality EP as well as four of the band's demo releases, dating from before Terminal Reality right up to when they became Paingod. This includes 1990's 6-song Perpetual Aggression demo, 1991's 6-song Lost in Mind demo, 1994's 4-song The Stuck demo and 1995's Paingod demo. All of the material has been newly remastered by Jamie King. Additionally, the second disc features seven live video clips and the CD booklet is loaded with vintage photos and flyers, demo tape cover artwork, lyrics and input from members of Cannibal Corpse, Pro-Pain and Solstice.
A collection like Land of Broken Promises is not for the casual thrash fan. This is for the true disciples of the underground thrash metal scene. If you remember Raped Ape or even Paingod back in the day, Land of Broken Promises is a must-have collection. If you missed the band the first time around but are on the lookout for vintage thrash, Land of Broken Promises is the perfect introduction to the band.
Genre: Thrash Metal
Band:
Mike "Pooch" Pucciarelli (g) (v)
JC Dwyer (d) (v)
John Paul Soars (g) (v)
Tommy Buckley (b) (v)
Mike Moreno (b, disc 1 tracks 1-6, 13-18)
Dan "Rattlehead" Cleveland (b, disc 1 tracks 7-12)
Track Listing:
Disc 1
1. Land of Broken Promises
2. Victim of the Game
3. Voice of Reason
4. Remembrance
5. Who's In Control
6. Return to Nothing
7. The Krusher
8. Shrouded in Darkness
9. Kill Thy Neighbor
10. Circle of Blood
11. S.T.D. (Socially Transmitted Death)
12. Pieces of Aggravation
13. Hypothermia
14. Lost in Mind
15. Monkey See, Monkey Do
16. Feet First
17. Wastoid (Drooling Pigdogs Lineup)
18. The Krusher (live)
Disc 2
1. Stuck
2. Future Tense
3. Drag
4. Mass Population
5. Paingod/Sicklife
6. Not a Moment To Spare
7. Blind Vision
8. Easy Way Out
9. Self Made Man
10. One and the Same
Label: Divebomb Records
Website: www.rapedape.net
Hardrock Haven rating: 8.5/10