by John Kindred
– Publisher —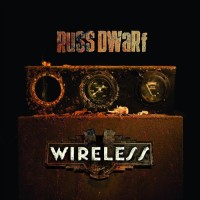 Canada's Killer Dwarfs' comedic zeal and polished chops catapulted the band from Oshawa, Ontario, into homes of America via MTV in the '80s. Their success produced two classic albums released by Epic Records, '88 Big Deal and '90s Dirty Weapons. Led by Russ "Dwarf" Graham, the band released five studio albums and toured relentlessly over the course of their career before succumbing to the Grunge movement in the '90s. Russ Dwarf continued on in the music business, and after 30-plus years, he returns with an acoustic interpretation of Killer Dwarfs' greatest hits.
Wireless features music from 1986's Stand Tall, '88's Big Deal, 1990's Dirty Weapons and '92's Method to the Madness studio albums. The running order of the songs is chronological that showcases the band's progression as songwriters. Russ is joined by guitarist Glen Belcher and bassist Rob Zakojc. A few special guests include Glen Drover and Ron "Bumblefoot" Thal.
The stripped-back renditions of classic Killer Dwarfs songs start with "Keep the Spirit Alive," which is a poignant start for some, as the band's music never was too far from their hearts. It's a bit mellow for an album lead-off song, but Dwarf's voice melds flawlessly with the melodies. "Stand Tall" follows and instantly picks up the tempo. Here, the trio captures the raw energy of the moment, along with the energy of the original song. "I'm Alive" has a country-blues vibe that is combined with a Robert Plant-like rhythmic pulse to the vocal melody. "Starting to Shine" maintains the same relaxed delivery. Without the heavy distorted guitars or bombastic drums, Dwarf showcases his voice, proving that he hasn't lost a step as a singer.
"Doesn't Matter" certainly was a song written for the acoustic guitar. It's is a pleasant reminder of Killer Dwarfs during their finest hour. A positive and uplifting song, Dwarf continues to amaze with his vocal delivery. "Comin' Through" opens with its bluesy-Mid-Eastern riff, which sounds brilliant on the acoustic guitar. "Dirty Weapon" turns out to be a bluesy ballad-like piece in this stripped back version. This mellow rendition works, even though you wouldn't think it would. The acoustic guitar solo is quite elegant and fluid. "Look Around," "Four Season" and "Drifting Back" close out the album.
Russ Dwarf provides a unique introspective look at Killer Dwarfs catalog of music. The album features brilliant performance by all involved. In this stripped format, the vocals shine. Whether it be Dwarf's singing, alone, or the addition of the vocal harmonies, it's certainly those melodies that carry the music forward. The production is flawless; the acoustic guitar sounds alive and natural, as if you're sitting in the same room. A lot of "unplugged" albums don't work, as the music oftentimes doesn't fit this format. Killer Dwarfs' music, though, shows that the songs were not just power-chord-pop-metal jaunts. The music has real substance.
Genre: Glam Rock, Hard Rock
Band:
Russ Dwarf – vocals
Glenn Belcher – guitar, sitar and banjo
Rob 'Zaks' Zakojc – bass and backing vocals
Additional Musicians:
Glen Drover – guitar (2)
Ron 'Bumblefoot' Thal – guitar (10)
Kevin Simpson – guitar
Dan Lear – guitar
Kevin Reid – guitar
Cosimo Crupi – keyboards
Fred Duvall – percussion
Track List:
01. Keep The Spirit Alive (Stand Tall)
02. Stand Tall (Stand Tall)
03. I'm Alive (Big Deal)
04. Startin' To Shine (Big Deal)
05. Doesn't Matter (Dirty Weapons)
06. Comin' Through (Dirty Weapons)
07. Dirty Weapons (Dirty Weapons)
08. Look Around (Method to the Madness)
09. Four Seasons (Method to the Madness)
10. Driftin' Back (Method to the Madness)
Produced by Fred Duvall and Glenn Belcher. Executive producer Rob Zakojc.
Hardrock Haven rating: 9/10