Sarah and Melissa Fontaine of Chasing Violets
by Nikiforos Skoumas
– Columnist —
Sarah and Melissa Fontaine took the AOR world by storm in 2012 with the release of their debut album Outside Heaven. Coached by melodic rock authority Frédéric Slama and backed by a mind-blowing cast of musicians including Tommy Denander, Paul Sabu, Robert Sall, Joey Summer and Steffano Lionetti, Chasing Violets deliver way more than a first class female fronted AOR debut album.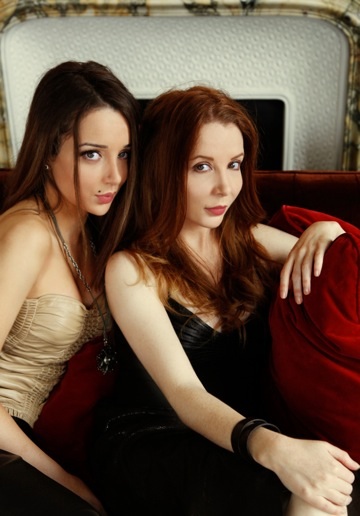 Hardrock Haven: Outside Heaven is clearly one of the highlights of 2012 melodic rock and a remarkable female-fronted AOR album overall, what has the market reaction been so far?
Mélissa Fontaine: As you know, Outside Heaven was our 1st English album, featuring an impressive cast of great musicians from the Melodic Rock scene. The album received fantastic reviews last year, saying it's brilliant even a masterpiece in major magazines and websites around the world. The worldwide reception was incredible! Journalists & fans already talk about this album like a pure AOR Classic. We think that the sensual range of our vocals and the mix of Westcoast and Aor were particularly appreciated by the given audience. For those of you who have not yet bought this successful album. It is still available at www.ChasingViolets.fr! Since the beginning of our careers AOR duet albums have never been so popular! That's unbelievable! It seems that we had with Frédéric a brilliant idea!
Hardrock Haven: How did you come up with the name Chasing Violets? A very original band name, is there a symbolism behind it?
Sarah Fontaine: A very original name for a very original band! There is a symbolism behind these words. Everyone is searching for his/her own perfection… The term "Chasing", it's like pursuing a dream. Also, the flower violet has two different sides and is also linked to ancient legends. It's like our personalities. We worked hard to find the right name, and you'll need more than two albums to see all our sides.
Hardrock Haven: How did you come to collaborate with the renowned Frédéric Slama who contributes a great part of the songwriting on the album?
M.F.: After our first meeting in 2006 at a Toto gig, we worked together on several projects. We were totally involved 'cause we have always been big admirers of the Melodic Rock scene and big fans of Frédéric Slama. Frédéric loved our voices and conception of what good music is all about and was fascinated by the fact that we loved so much AOR music. We always wanted to create a great female-led AOR band, but I think it was not the right moment to release an album at the time. We definitely needed to let our thoughts mature in order to make them more attractive. The golden rule is to prioritize quality! In 2011, we started to work on Chasing Violets band, because at that time conditions were right and the chemistry between us incredible. Frédéric decided to be our producer and songwriter and gave us his full support. We lived a lot of experiences in music. Thanks to our project, we became trusted friends. Today, we're all three part of the same music family. We don't have any secrets about music and we have the same goal. Like AOR, Chasing Violets is one of Frédéric Slama's main's projects.
Hardrock Haven: Looking at the guest appearances and overall line up on Outside Heaven, does it cost a lot financially to feature all those names in a debut album?
S.F.: All these recording sessions were top notch and the human factor is priceless. Frédéric Slama's reputation and golden address book were very useful. We won't talk about money but we could just talk about numbers … Outside Heaven, it's 35 of the best musicians in the Melodic Rock world, and this is a fact! We let you imagine how much this bunch of genius could cost.
Hardrock Haven: Have you ever considered doing separate/solo albums, or have you been approached to participate in other melodic rock projects?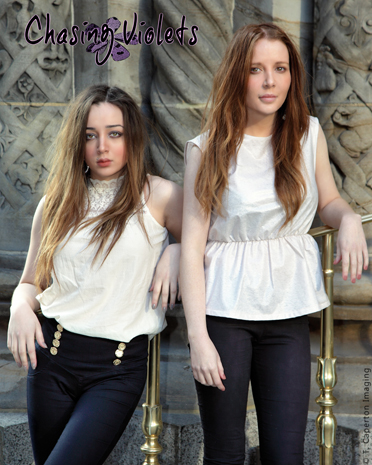 M.F: Making solo albums is another dream for me and Sarah. For the moment, our priority is to live fully this experience under the project of Chasing Violets. It's not just a band; it's the kind of adventure that you can only imagine with your sister. I dreamed about this project when I was a little girl and I played make believe games in my room with Sarah. We both have many other projects for Chasing Violets, and we know exactly what we are supposed to do and where we are supposed to go.
S.F.: We've had many opportunities, but it doesn't mean that we have to lose our focus by releasing EP or demos. Quality is our golden rule! So, we take our time to make everything right and to make better choices for our careers, that's why we're still in the game with another album full of gems and incredible guests. No rush for Chasing Violets! We could have made a simple EP and call it an album like some other bands, but our fans deserve the best. That's why we chose to come back with a full album of 12 killer songs.
Hardrock Haven: What is your relationship like with your record label Perris Records?
S.F.: We were very proud to sign our 1st deal with an American label like Perris Records, and we preserve our relationship with them. For the 2nd album, we had a better deal with the Swedish label "Aor Records", managed by Freddie Allen from the band Houston. Freddie is a talented CEO. He is efficient and business minded. We think that it's important to have a label in the same state of mind as us; we're young, dynamic and extremely driven! In this case there's no need to talk for hours, everything is clear and obvious. So, check out the AOR Records website: www.AorRecords.com!
Hardrock Haven: You are already planning a follow-up album; what can you tell us about the second studio album by Chasing Violets?
S.F.: We're proud to come back with this new album titled "Jade Hearts" which will be released on June 14th 2013 on AOR Records. It shows the rockier side of Chasing Violets with 12 killer songs and outstanding duets that is our identity and part of our success. "Jade Hearts" is a powerful Female AOR album… punchy & rocking! There are so many grand moments… Each track delivers a powerful hook and reveals a more mature sound. You'll own an absolute treat of Melodic Rock sound in a simple CD case. It's a collection of great songs…with big Melodic Rock stars! This album combines different influences, but always in the Melodic Rock genre… We tried to reach new territories with different arrangements & the vocals are huge … We're truly delighted by the result! You know, some albums require a number of spins before you fully appreciate them, but with "Jade Hears", it's very different. It's a blast of sensations! We think that we have really outdone ourselves with this new album.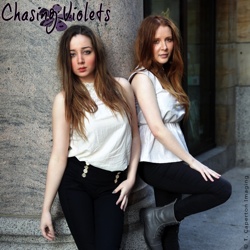 M.F: This 2nd album is a major turn in what we are going to personify in the near future! The changes are taking place now! You know, we had the chance to form a perfect team with Frédéric Slama, 'cause we have the same dream and goal in common, we want Chasing Violets to reach the highest level possible! We're proud to be among his priority projects. He has actually passed by so many female demands to be "his" next "Chasing Violets"… Myself and Sarah are the heart and soul of Chasing Violets! This concept is entirely our own and we make everything by ourselves, including what occurs behind the scenes! We try to carry the weight of our project on our own shoulders. In a sense, Frédéric is passing down his knowledge to us, as if we are the chosen ones!
Hardrock Haven: Are there any plans for international live dates or tours in 2013?
S.F.: We're scheduling some live dates for 2013/2014, and we'll tour extensively in 2014. People, who still think that we are a studio band, will be gladly surprised to know that we have now our own army to rock the world! Our rock set list is ready, our permanent line-up is now perfectly rocking and we have many surprises for our fans!
Hardrock Haven: Finally is there anything that we left out that you would like the fans to know?
Chasing Violets: First of all, we'd like to thank you Nikiforos and your team for this interview! We enjoyed doing it! Then, we'd like to thank our Greek fans and the others around the world. It's amazing to see that you're still there to support Chasing Violets! We're proud to have you by our side! We're working hard to keep our big community united. Please, join us on our brand new website: www.ChasingViolets.fr! Many surprises will be announced very soon … Don't forget that our debut album Outside Heaven is still available on our official website and that our new album Jade Hearts will be released on June 14th on AOR Records!
Official Chasing Violets website www.ChasingViolets.fr