Sonic Temple | Sonic Temple
by Jenn Carbaugh
– Columnist —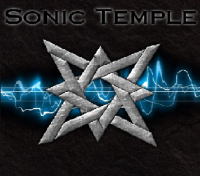 There is some melodic heavy rock coming out of South Wales these days. Sonic Temple has debuted their self-titled, nine track album on Dec. 3, 2012. This talented duo consists of Andrew Richards who is the lead, the rhythm, and bass guitar player. Allan Green performs the vocals for the band. These two have a credible track of performing live and doing studio work as well. Based in Llanelli, South Wales, all the music that comes from Sonic Temple is written by Richards and Green. Their recent self-titled album was recorded at Capricorn 7 Studio and has had some ample airplay from independent stations.
The clean vocals provided by Green make "Seize The Day" come alive in quick build that goes right into the catchy chorus. The fast passed song surpasses the mellow rock atmosphere provided by the rest of the newly dropped album. There is a steady sound throughout all of the tracks. Each song has similar elements, and each one can start to blend with the next, forming a cohesive but commendable sound.
In "Sacrifice," the second song featured on the album, there is a progressive beat that intensifies the beginning riff. When the simple vocals chime in, they don't overpower the driving sound of the instruments. At the same time, the song, along with many of the others, need more vocal presence. That would provide the solidity of the music to reach ultimate listener satisfaction.
The album, in its entirety, does prove to be a strong contender for long car rides with easy listening as a factor. Songs like "Daylight" allow the album to have a wide audience. There is so much ability that this band brings to the musical table. They are working their way up that ladder of talent and are giving a good impression with their self titled album.
Genre: Hard Rock, Heavy Rock
Band:
Andrew Richards – lead, rhythm guitar, bass guitar
Allan Green – vocals
Track Listing:
01. Humankind
02. Sacrifice
03. Daylight
04. 20 Tears
05. Addiction
06. Time to Burn
07. Seize The Day
08. Salvation
09. Die For Me
Website: http://sonictemple.bandcamp.com/
Hardrock Haven rating: 8/10