Tom Keifer | The Way Life Goes
by Deb Rao
– Senior Columnist —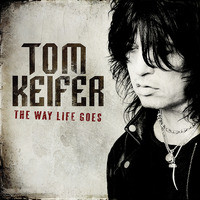 Best known as the front-man for Cinderella, Tom Keifer is gearing up for the release of his first solo album The Way Life Goes on April 30 via Merovee Records. The Way Life Goes is a tapestry of some of the finest blues, country, and rocks songs to emerge this year. Tom Keifer shines as he weaves his magic of heart provoking lyrics and gives his vocal performance of his career.
The Way Life Goes opens up with the hard rocking "Solid Ground." This song has a distinctive Cinderella groove bluesy and hard driving. Tom slows done the pace for a moment on the country ballad "A Different Light." This song has great phrasing. Tom Keifer's love for the blues is surely not denied on this album. "Its Not Enough" has a funky blues rhythm reminiscent of The Stones. This song should be the next single. It showcases Tom's bluesy style brilliantly. He keeps the blues groove flowing with the hard driving "Cold Day In Hell." This song has a definite Mick Jagger swagger following in the Cinderella vein.
Tom has a unique way of making you feel and drawing you into his world with his ballads. "Thick And Thin" is a song that Tom wrote for his wife Savannah. It is a beautiful piano ballad. Keeping in the acoustic vein stand out track "Ask Me Yesterday" will blow you away. Tom takes a look back into his past only to find his future so bright. The acoustic guitar playing of this song is so melodically beautiful. The lyrics so poignant. I think everyone will identify with this song. It would make a great country hit. Country radio are you listening?
Getting back into the blues-rock, Tom showcases his Led Zeppelin roots with "Fools Paradise." The Flower Song" also follows in the Zep vein with slide guitar. "Mood Elevator" will blow you away with its Stone Temple Pilot groove. This song just jumps out at you!
Other standout tracks include "Aint That A Bitch" following in The Stones vein. The title track "The Way Life Goes" sums up the whole album. It defines Tom's love of the blues with a Muddy Waters, B.B. groove. Dark and dirty, this song like sounds like it was written in the blues quarter of New Orleans with all its magic.
One of the greatest aspects of The Way Life Goes is it doesn't just focus on one genre of music. It flows very well. Showcasing blues, country, and rock. Tom takes his sound a step further with intricate guitar phrasing, blistering bluesy vocals, and poignant lyrics that can only be acquire through life's hard lessons learned. Ready to step into the spotlight, as one of the music industries top songwriters Tom Keifer's The Way Life Goes is a journey through time. The good times and the bad times all in one combined. Debuting an album of true passion of emotion from one of the '80s finest. Be sure to call your local radio stations and request "Solid Ground." Check out the exclusive interview with Tom and Track-by-Track right here at Hardrock Haven.
Genre: Hard Rock, Blues
Band: Tom Keifer
l. Solid Ground
2. A Different Light
3. It's Not Enough
4. Cold Day In Hell
5. Thick And Thin
6. Ask Me Yesterday
7. Fools Paradise
8. The Flower Song
9. Mood Elevator
10. Welcome To My Mind
11. You Showed Me
12. Ain't That A Bitch
13. The Way Life Goes
14. Babylon
Label: Merovee Records
Website: www.tomkeifer.com
Hardrock Haven Rating: 9/10