Volbeat | Outlaw Gentlemen & Shady Ladies
by Justin Gaines
– Senior Columnist —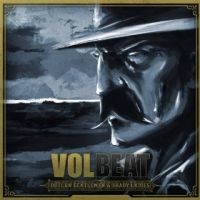 It's been nearly three years since Volbeat released Beyond Hell/Above Heaven, and the Danish band has certainly not been idle. The album was a huge success, thanks in equal parts to extremely catchy and unique metal songs and almost nonstop touring, especially in the US. Now the band is back with their highly anticipated follow-up. Outlaw Gentlemen & Shady Ladies is their fifth album overall, and it is the first Volbeat album to feature former Anthrax guitarist Rob Caggiano, who replaces Thomas Bredahl on lead guitar. Caggiano also produced the album alongside Jacob Hansen.
On Outlaw Gentlemen & Shady Ladies (and how great is that title, by the way?), Volbeat's core sound – that unique mix of Metallica, Johnny Cash, Social Distortion and Motorhead – is very much intact. As with Beyond Hell/Above Heaven, there's a major focus on melody and enough radio-friendly rock songs to balance the album's heavier tracks. You can tell right off that "Lola Montez" and "Cape of Our Hero" are this album's "Heaven Nor Hell" and "Fallen," and the surprising but wickedly infectious cover of Young the Giant's "My Body" has the potential to be a huge radio hit.
Beyond the obvious singles, Outlaw Gentlemen & Shady Ladies is a very strong album full of songs that are very easy to get into. The band knows exactly where the line should be between heaviness and melody on each song, so you'll get a full-on Metallica thrasher like "Doc Holliday" after a more radio-friendly song like "The Sinner Is You," and a song like "The Hangman's Body Count," which sounds like it could have been written by (or for) Johnny Cash, right after the darker "Room 24" and before "My Body." Not once do you lose interest or start to tune out, and with 14 songs on the album that's no mean feat.
Like previous Volbeat releases, Outlaw Gentlemen & Shady Ladies is more or less a concept album. You can enjoy the album without getting into the story, and the songs absolutely stand on their own, but a pass or two through the lyrics does enhance the overall experience, and helps bring this Western ghost story to life. Songs about gunfighters, stage coach robbers, saloon dancers and an undead avenger are given the perfect accompaniment by slide guitar, harp, banjo and double bass, and guest vocals by Sarah Blackwood and King Diamond help add to the conceptual feel of the album. That and it's just extremely cool to hear King Diamond singing with a band he undoubtedly inspired.
It's hard to imagine Outlaw Gentlemen & Shady Ladies disappointing many Volbeat fans, unless you're looking for a return to the much heavier The Strength/The Sound/The Songs days. This is a natural progression of Volbeat's sound, and it's just a fantastic experience overall. There are those rare albums that you know on the first listen that the songs you're hearing are going to be part of your life's soundtrack for quite some time, and Outlaw Gentlemen & Shady Ladies, like the Volbeat albums before it, is definitely one of those albums. Once you put this one in the player, it's going to be a long time before you're willing to take it out.
Edition Notes: There are multiple versions of Outlaw Gentlemen & Shady Ladies available, including digital, CD and vinyl. There is a deluxe CD version (exclusive to Best Buy stores) that has a second disc featuring four bonus tracks that are well worth hearing. It has the new (and quite heavy) studio song "Ecotone," a harp version of "Lola Montez" that's even better than the album version, a live recording of "7 Shots" (featuring Kreator's Mille Petrozza) and the demo version of "Evelyn" that has Michael Poulsen instead of Barney Greenway handling the growled vocals. For the truly hardcore, there is a deluxe hardcover book edition that comes with an exclusive 45rpm vinyl single.
Genre: Metal
Band:
Michael Schon Poulsen (v) (g)
Jon Larsen (d)
Anders Kjolholm (b)
Robert Caggiano (g)
Track Listing:
1. Let's Shake Some Dust
2. Pearl Hart
3. The Nameless One
4. Dead But Rising
5. Cape of Our Hero
6. Room 24
7. The Hangman's Body Count
8. My Body
9. Lola Montez
10. Black Bart
11. Lonesome Rider
12. The Sinner Is You
13. Doc Holliday
14. Our Loved Ones
Label: Vertigo
Website: www.volbeat.dk
Hardrock Haven rating: 9.5/10