Another Fallen Metal God: Jeff Hanneman
by Cynthia Jo
– Columnist —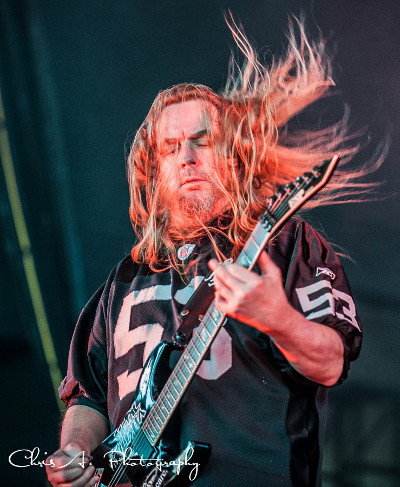 Slayer is officially over. The founding member and guitarist of the thrash-metal band, Jeff Hanneman, passed away last Thursday May 2, 2013 of liver failure at Hemet Valley Medical Center in Los Angeles. He was 49-years-old.
About two years ago, the guitarist and songwriter contracted a rare skin tissue disease linked to a spider bite he claimed to have received while in a friend's hot tub. As soon as the band went public about Hanneman's death Thursday afternoon, fans and fellow musicians went onto social media to pay their condolences to the metal legend.
According to a Yahoo music news article, it's not known what role the disease played in Hanneman's liver failure. However, Hanneman had been off the road since early 2011 because he had contracted necrotizing fasciitis from said spider bite. The disease is a fast moving illness that eats away at the flesh from deep layers of skin and tissue.
During last year's Rockstar Energy Drink Mayhem Festival, the band was optimistic about returning to work with the fallen band mate—which would have been the band's first album since 2009's World Painted Blood.
Hanneman a die-hard Raider fan was born in Oakland, Calif., in 1964 but was raised in Long Beach. The guitarist met Kerry King in 1981 and created Slayer. The band soon after signed to Metal Blade Records and released Show No Mercy in 1983 and Hell Awaits two years after. In 1986, fans questioned the band when they signed to hip-hop label Def Jam but were greatly satisfied with the label's release of Undisputed Attitude and Reign in Blood. Over the years, Slayer had released 10 studio albums and two live albums. Ten of those albums, which include Reign in Blood, South of Heaven and Seasons of the Abyss, have been on the Billboard 200. Christ Illusion which was released in 2006 debuted at No.5. Hanneman can be credited for writing "Angel of Death," "South of Heaven," "Seasons in the Abyss" and the bands best selling song "Raining Blood."
Hanneman's grandparents hailed from Germany and are a reason why he was so passionate about World War II memorabilia. That fascination was what triggered the controversy over Slayer's supposed Nazi sympathies, and what supposedly inspired the shape of the S in the group's typography. Songs such as "Angel of Death," is about German doctor Josef Mengele and his horrific "experiments" at the Auschwitz death camp. Hanneman often had to explain that the songs were in no way intended to glorify Mengele.
Hanneman survived by his wife Kathy of 16 years and siblings Michael, Larry and sister Kathy.
[Photo appears courtesy of Chris A. Photography]