Anthony and Carlo Fragnito and Steve "Budgie" Werner of Three For All
by Alex Barbieri
– Columnist —
As Real as it Gets: An Interview with Anthony and Carlo Fragnito and Steve "Budgie" Werner of Three For All
When Alice Cooper calls a new band's songs "future classics," it's time for hard rock fans to take notice and check it out. Such is the case with Three For All, a New York-based trio of rock veterans. Three For All's members—Anthony Fragnito on bass and lead vocals, his brother Carlo Fragnito on guitar, and drummer/vocalist Steve "Budgie" Werner—played together in Black Lace in the early '80s, an influential female-fronted hard rock band. The guys have built an impressive musical resume since then, playing and recording alongside Ace Frehley, Carmine Appice, Mountain's Leslie West, and ex-Sabbath singer, Tony Martin, among others.
Three For All's debut CD, Live For the Music, is getting a lot of attention lately—in an era of Pro Tools and Auto-Tune, they're a refreshing return to "righteous soulful rock." Let's take a trip to "The Big Apple" to talk with Anthony, Carlo, and Budgie about past highlights and future plans.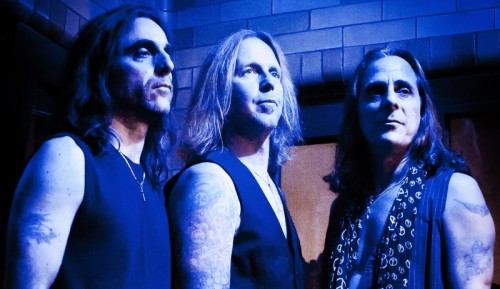 HRH: Anthony, Carlo and Budgie, thank you for taking time to talk with Hardrock Haven. I really dig your new CD, Live For the Music. It has a very cool, throwback vibe to '60s and '70s bluesy hard rock—Cream, Mountain, and Hendrix came to mind.
Was it a conscious effort to go for that sound, or is it just the way you write and record?
AF: No, it was not a conscious, calculated effort—it's just the way we write. We were definitely influenced by that era.
CF: We tried to keep the recording as close to our live sound as possible with minimal overdubs.
HRH: Is it true that making the Live For the Music CD was an independent project? What are some of your favorite tracks on the album and why?
AF: Most of the recording was done at Psycho Underground (Budgie's studio), which is (drummer) Budgie's studio.
SW: I love the vibe of Live for the Music. It has a real live power trio feel and describes our feeling about why we still play.
CF: One of my favorite tracks is "Shine on You." I like the phase groove sound that we captured.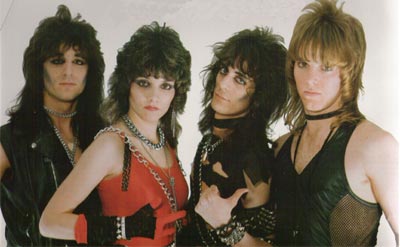 HRH: Anthony, you sang quite a bit in Black Lace and your other bands, Damn Cheetah and Snappahead, but this is your first time handling all the lead vocals, as well as bass.
How did that come to be, and how do you feel about it?
AF: In most of the other bands, I was the main songwriter and would give the songs to the lead singer. I decided to sing the songs myself this time.
HRH: Anthony and Carlo, as brothers, what is it like playing music with each other? Is there a certain intuition or sixth sense that happens because you're so close?
AF: Yes, I feel there definitely is. I feel that intuition exists between all three of us. That's why we decided to keep it a power trio—hence the name Three For All.
CF: When one of us comes in with an idea for a song, we all seem to get it right away.
HRH: The three members of Three For All were also in Black Lace. Are you in touch with Black Lace's singer, Maryann Scandiffio, and what is she up to these days?
AF: We still love Maryann, but these days we don't hear or see much of her anymore.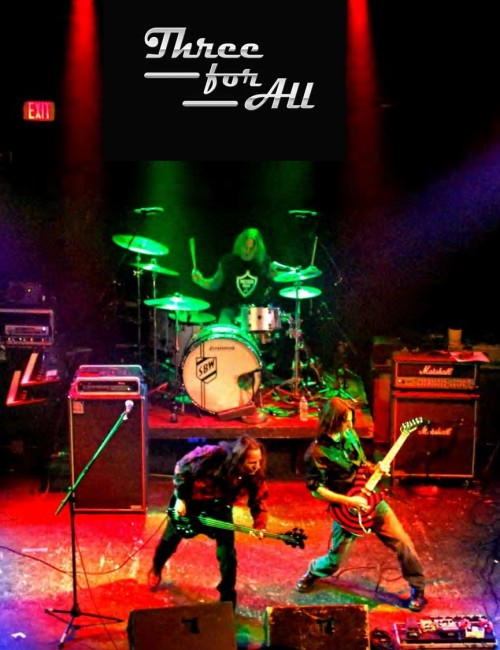 HRH: In 1984, Black Lace's debut album Unlaced (Mausoleum Records) was released, and you toured in support of fellow New York bands, Twisted Sister, Manowar, Zebra, Talas, and The Plasmatics.
What memories stand out for you from those tours and that era?
AF: The biggest memory for me was when we went to England for the first time and recorded our second album and toured the country.
SW: The band had incredible energy. We would get so pumped up to open for many of our heroes of the day. We were lucky to have the opportunity to warm up such great acts from Johnny Thunders to Y&T.
HRH: You've played with Ace Frehley, Carmine Appice, Mountain's Leslie West, and Tony Martin, among others. What interesting, funny or crazy stories can you share about playing with them?
SW: One of the greatest rock 'n roll cities in the country is Cleveland. The crowds there were super enthusiastic. One night we were playing the Agora Ballroom with Ace Frehley. The bus pulled up back stage and we could hear the crowd chanting and going crazy.
The whole band was very into listening to the Tube Bar Red's Bootleg Tape (prank call comedy album). We sat on the bus and delayed going on stage because we were in tears laughing and listening to Red. We also took over a plane once.
CF: It was an honor to record with Tony—I think he is a great songwriter.
HRH: Question for all of you: Of all the shows you've ever played, what is the most memorable, and why?
AF: I would have to say opening up for Twisted Sister in Binghamton, New York during the "Stay Hungry Tour."
CF: I feel that the shows we play now are the most memorable, and I enjoy them much more than in the past.
HRH: Any upcoming Three For All shows or news you'd like to share and promote?
AF: Brian's Blues Rock Fest on June 29th with Savoy Brown and Blue Coupe is next, and then Cafe Wha? In NYC—the place Hendrix made famous—is July 19th. We have more upcoming shows—check out our website http://www.threeforall.net/ for dates.
CF: We're also very proud of being released onto 30,000 AMI jukeboxes.
HRH: Is there anything else you want to say to your fans, and Hardrock Haven readers around the world?
AF: Thank you for supporting Three For All, and for all those who haven't heard us, go to our website http://www.threeforall.net/ and give us a listen. I think you will like what you hear.
CF: Thanks for supporting our music—it means a lot to us.
HRH: Anthony, Carlo, and Budgie, thank you again for your time, and all the best with Three For All!
AF: We all thank you Alex very much for the interview and thanks to Hardrock Haven.
Check out Three for All's website: www.ThreeForAll.net
"Like" Three For All on Facebook: www.facebook.com/ThreeForAll
Order Three For All's debut CD, Live For the Music:
Physical CD: www.shop.ThreeForAll.net
mp3's: www.ThreeForAll.net
Also available on CD Baby, Amazon, and iTunes.