Artlantica | Across The Seven Seas
by Jenn Carbaugh
– Columnist —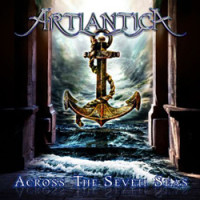 Artlantica's debut album, Across The Seven Seas, is a compilation of Neo-classical charm and witty instrumentals. The band comes from the remnants of Artension and Angel of Eden and includes guitarist Roger Staffelbach, vocalist John West, and keyboardist Mistheria. There are also those who lent a musically gifted hand for this record. These helpful musicians consisted of Dani Löble (Helloween) and John Macaluso (Malmsteen, TNT, Ark) on drums, bass player Steve DiGiorgio (Sadus, Testament), who also worked with Artension and Angel of Eden previously, and guitarist Chris Caffery of (Savatage, TSO).
If you were a fan of Artension or Angel of Eden, this album will quench your thirst. There is a smooth heaviness in the progressive, power metal tracks. There is speed without sloppiness, and there is technical skill without the instruments drowning out the vocals. This album is put together very well.
This album offers a heavy side as well as ballads that capture the voice of West. "Ode To My Angel" is a great ballad that passion can be heard in both the vocals and the rhythmic playing of the instruments. "Devout" is another track that stands out. It has a catchy and quick paced element that keeps the listener entertained. The high belts coming from West display a large amount of talent as well.
There is a random track that does not seem to mesh well with the rest of the melodic album. "2012" is obviously about the inferred doom that the date accompanied. It is that one song that could be skipped over. It does not bring down the rest of the album, but it just seems odd. It doesn't make as much of an impact as songs such as "The Seven Seas," which is certainly a stand out track. Overall, this album does not make a large splash, but it is definitely not a sinking ship. It will please the fans of the previous bands, Artension and Angel of Eden.
Genre: Progressive, Power Metal
Band:
Roger Staffelbach – guitar
John West – vocals
Mistheria – keyboard
Track Listing:
01. 2012
02. Devout
03. Across The Seven Seas
04. You're Still Away
05. Ode To My Angel
06. Fight For The Light
07. Demon In My Mind
08. Return Of The Phraoh, Pt. III
09. Heresy
10. Nightmare Life
Label: SPV, Steamhammer Records
Website: https://www.facebook.com/artlanticamusic
Hardrock Haven rating: 5/10