Christophe Godin & Olivier Roman Garcia | Christophe Godin / Olivier Roman Garcia
by Alissa Ordabai
– Senior Columnist —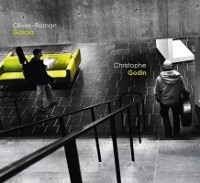 Widely renowned as the leader of futuristic metal-meets-jazz outfits Mörglbl and Gnô, this time French guitar virtuoso Christophe Godin teams up with fellow guitarist Olivier Roman Garcia to explore a more introspective acoustic guitar direction.
Enthusiastic response received a few years back from the guitar aficionado audience to Godin's and Garcia's live shows in France and Italy has now inspired the duo to release a full-length studio record. Away from the volatile vibe of Godin's rock experimentation, the album in hand goes on a mellower trip. Opener "Cadence" becomes a revealing starter: driven by fluctuating time signatures and intertwining themes, it brings together flamenco, jazz, rock, and folk, combining spontaneity and a sense of inner cohesion.
Tracks that follow move just as spontaneously, intuitively blending unhurried meditative jazz, flamenco-hued rhythms, and the jammy feel of two friends conversing on a breezy afternoon. The dialogue between the two guitars sounds neither confrontational nor sycophantic, but rather as a concurrent coexistence of two separate excursions progressing side by side. At times Godin's and Garcia's parts meet and greet each other, at times they scatter, but always remain aware of one another, almost telepathically so.
An innate sense of form allows both guitarists to delve into extensive extrapolations while keeping hold of the narrative thread. But then again, neither of the two players feels the need of telling a particular story on each track. Both recognise music as an abstract art, and as something above and beyond storytelling. And both know that an accurately conveyed mood – such as on standout "Simplement" – leaves you with something more than any literal declaration.
But other highlights such as "Sacha Distille" show that there is more to this record than virtuosically improvised mood-setting. Back to his favorite game of juxtaposing rock and jazz, here Godin shows off his high tech chops and a wicked sense of humour. Resembling a soundtrack to a surrealist cartoon, this cut comes in as a welcome breather from contemplative (self)-search of previous tracks. However, it still doesn't prepare you for the biggest opus of this release titled "Orchestre".
Aided and abetted by an orchestra, on "Orchestre" the duo reiterates its connection not only to jazz, but to Spain, and to folk music of southern Europe. To anyone who has up until now viewed Godin as a master of small (or even fragmented) form, this piece proves how he can embrace bigger formats not only as composer, but as an arranger. The luminously clear orchestra sets off the eloquent, spirited jazz of the guitars without any dictates or false pathos. Atmospheric and intelligent, it ties the Romantic style with Prokofiev-esque playfulness, showing the size of cultural terrain instrumental guitar can cover when played by musicians who are both erudite and adventurous.
Genre: Acoustic Duo
Track Listing:
1. Cadence
2. Derrière les sourires
3. Dés, dominos
4. My Little Man
5. Orchestre
6. Pachyderme ballade
7. Point d'Org
8. Quiet song
9. Sacha distille
10. Simplement…
Online: http://www.christophegodin.com
Hardrock Haven rating: 8/10