Forever a Legend: Jeff Hanneman
by Jenn Carbaugh
– Columnist —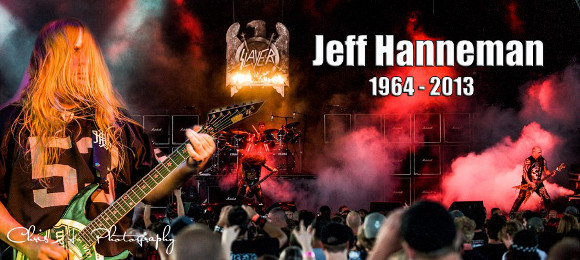 The metal world recently experienced a major loss with the death of Slayer guitarist, Jeff Hanneman. Hanneman died Thursday, May 2 of liver failure. He was only 49. A spider bite was said to play a crucial role in his death. He was born in Oakland, Calif. on January 31, 1964.
Jeff Hanneman was a guitarist, songwriter, and founding member of Slayer. He approached Kerry King in 1981, and the metal music history of Slayer began a few years later. The band is known for their thrash metal that focuses on speed, precision, and aggression. By the late 1980s Slayer was considered one of the major thrash metal bands. They gained popularity alongside some other thrash metal bands like Metallica, Megadeth, and Anthrax. Hanneman is a legend of the metal world and was initially inspired by the punk music while he was growing up.
One of Slayer's most well-known songs, "Angel of Death," was written by Hanneman and illustrates the Nazi scientist experiments during the Second World War. Hanneman grew up in a military family, and after acquiring some Nazi memorabilia from his father, he became a collector. "Raining Blood" is also a very popular Slayer song that Hanneman contributed to on more than one level. These two songs are played at almost every Slayer performance.
Hanneman kept his musicianship alive as he played a pivotal role in the songwriting and creative aspect for Slayer. "Seasons in The Abyss" and "South of Heaven" are some of the assertively brilliant tracks that he helped to build. Hanneman had such a creative edge in terms his range for songwriting, and his legend will live on as with the pioneering band. His songs have also been recorded by Hatebreed, Children of Bodom, and Cradle of Filth. Jeff Hanneman is a metal titan who will be severely missed but forever honored. He is survived by his wife of 16 years, Kathy; his two brothers, Michael and Larry; and sister Kathy.
Unfortunately, Jeff Hanneman was forced to take a temporary leave of absence from his duties of Slayer in 2011 after contracting necrotizing fasciitis from a spider bite he received while being in a hot tub. He went through surgeries and skin grafts. This incredible musician may have passed, but the metal world will keep his legacy alive.
[Photo appears courtesy of Chris A. Photography]