Ghost B.C. | Infestissumam
by Justin Gaines
– Senior Columnist/News Editor —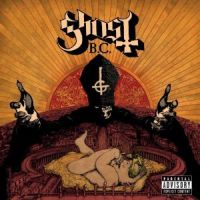 After months of speculation, controversy and sheer hype, we finally have the new album from Swedish band Ghost – or Ghost B.C. as they're calling themselves in the U.S. Ghost, of course, made a huge splash with their 2011 debut Opus Eponymous, and since its release their buzz has only increased, leading to a reported seven-figure deal on a major label. Naturally, expectations were very high going into their sophomore album, which is titled Infestissumam. Fans of the debut weren't exactly put at ease when the first single – "Secular Haze" was released. It's heavy use of circus-like organ seemed like a huge departure from the simple, catchy retro metal of the debut. Well, if "Secular Haze" threw fans for a loop, the rest of Infestissumam will definitely have some jaws dropping.
The formula for Opus Eponymous was simple – retro sounding heavy metal that sounded more or less like King Diamond writing lyrics for a Blue Oyster Cult album (with a bit of Angel Witch-y NWOBHM for good measure). The easiest thing for Ghost to do here is serve up another 8-9 catchy Satanic rockers to satisfy their fans. Instead, the band reached even further back into '70s prog and even '60s rock for an album that is both catchy and complex, and for all its Satanic trappings is a layered, progressive and perhaps even artistically brilliant work.
Opus Eponymous was effective for a reason, and Ghost hasn't forgotten that here. Infestissumam still has a handful of catchy heavy metal songs like "Jigolo Har Megiddo," "Depth of Satan's Eyes" and especially "Year Zero" that should satisfy the way "Satan Prayer" and "Death Knell" did. It's songs like the gloriously morbid King Diamond does King Crimson "Ghuleh/Zombie Queen" and the epic "The Monstrance Clock," with its Summer of Love turned Summer of Satan vibe, that show just how creative this band really is behind the robes and makeup. You hear it just as clearly on "Body and Blood," which has a strong Kinks sound, and the bouncy "Idolatrine," which for all its dark lyrical focus has the kind of vocal harmonies and guitar tone you'd expect from a vintage Beach Boys tune.
Now if you just read that and thought "why the hell do I want to hear Ghost sounding like the Kinks or the Beach Boys," that's totally understandable. If you just want another Opus Eponymous, you're not going to get that here. Even the most jaded listener is going to be won over by Infestissumam though. This is the kind of album that shocks you on the first spin, but definitely gets its hooks into you, and with each listen you hear something new and eventually realize that the album is nothing short of a triumph. All of the album's disparate elements come together brilliantly in the end, and while you'll no doubt have your favorite songs, like the debut Infestissumam works best as a complete experience.
There will no doubt be fans who just can't get into what Ghost is doing here, and there will be skeptics who question whether the band is worth the hype (or the money) they receive. They're going to be the minority though, as Infestissumam is every bit as mesmerizing and memorable – albeit in a very different way – as its predecessor. It is, quite simply, the most amazing album 2013 has to offer so far.
Edition Notes: There are several versions of Infestissumam available. The basic CD comes in a flimsy digipack, while the deluxe edition comes in a jewel case with full booklet and two bonus tracks – "La Mantra Mori" and a very creepy cover of Abba's "I'm a Marionette." The standard LP edition is on red vinyl, while the European version has a deluxe gatefold packaging.
Genre: Heavy Metal, Occult Rock, Progressive Rock
Band:
Papa Emeritus II and a Group of Nameless Ghouls
Track Listing
1. Infestissumam
2. Per Aspera Ad Inferi
3. Secular Haze
4. Jigolo Har Megiddo
5. Ghuleh/Zombie Queen
6. Year Zero
7. Body and Blood
8. Idolatrine
9. Depth of Satan's Eyes
10. Monstrance Clock
Label: Republic
Website: www.ghost-official.com
Hardrock Haven rating: 10/10