Glenn Hughes | Live in Wolverhampton
by Jenn Carbaugh
– Columnist —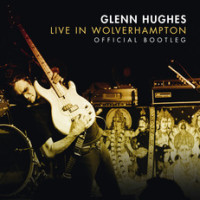 Glenn Hughes, the voice of rock, has quite the reputation in the music world, but he has been able to be somewhat off of the radar. Now sober and ready to conquer the music world, Hughes has released Live in Wolverhampton. He is known for his work in Trapeze, Black Sabbath, and Deep Purple. This album is fairly special, because it was recorded over two nights in Hughes's hometown of Wolverhampton back in 2009. The two-CD set was released by the bassist in February.
The first disc includes cuts from Hughes' time as the lead vocalist in Deep Purple. Tracks like "Crave," "Muscle and Blood," "Don't Let Me Bleed" and "Mistreated" are all in homage to those glorious days. The second disc is Trapeze themed and contains tracks such as "Touch My Life," "Black Cloud," "Coast to Coast" and "You Are The Music." Trapeze band-mate, Mel Galley, recently passed away, so this was a fitting tribute.
This double set of music mastery is more than just a look at the past. These songs capture the love and history of Glenn Hughes beautifully. There is more to than this collection than riffs and a hard rock feel. There is a soul and funk texture that showcases the talents. Glenn Hughes does a fine job of combining his solo work with the classics. He is a musical freak of nature in the highest regards, and this set of albums does not disappoint the listener.
Genre: Rock, Soul
Band:
Glenn Hughes – vocals, bass
Steve Stevens – drums
Jeff Kollman – guitar
Track Listing:
1-01. Muscle and Blood
1-02. You Got soul
1-03. Love Communion
1-04. Don't Let Me Bleed
1-05. What's Going On Here
1-06. Mistreated
1-07. Crave
1-08. Hold Out Your Live
2-01. Way Back to the Bone
2-02. Touch My Life
2-03. Jury
2-04. Coast to Coast
2-05. Seafull
2-06. Good Love
2-07. Your Love is Alright
2-08. Medusa
2-09. You Are The Music
Label: earMusic, Armoury Records
Website: http://www.glennhughes.com/
Hardrock Haven rating: 8/10