by Anabel Dflux
– Photojournalist —
May 11, 2013 at Bar Sinister in Hollywood, CA —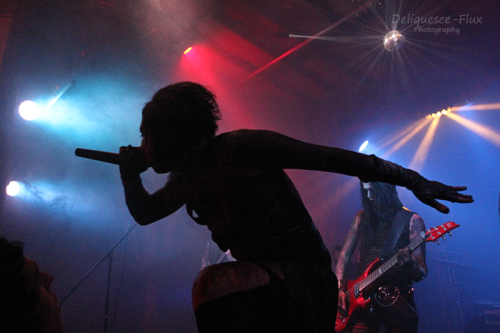 Brainchild of Kristof Bathory, Dawn of Ashes formed in 2001 and has since been a prevalent force in the heavy music scene. The band's sound is derived from a unique combination of genre elements, ranging from black metal, shock rock, industrial, and aggressive music. Lyricism revolves around various 'shocking' topics, such as sexual perversions and horror. Their stage presence, however, is definitely something out of your nightmares. Adorning blood soaked faces that contrast pale white skin, Dawn of Ashes definitely takes the horror aspect of their work seriously.
To start off their upcoming tour after the drop of their latest album Anathema, Dawn of Ashes found themselves at Bar Sinister, one of the most infamous Goth clubs in Hollywood. They drew in quite a crowd; every inch of this distinctive venue was packed with the body heat of those interested in the gothic subculture, ranging from musicians, enthusiasts, and fans of the performers.
It's clear as day to spot Kristof and his live crew as they set up for the night's performance, stirring the audience as many begin to crowd around the stage. After an introduction from 'Sinister host Kent Kaliber, the band jumped right into the music. The band's unusual stage antics and demonic characterizations definitely intrigued many, as more and more onlookers stopped their socializing to watch (and likewise, those not-so-into the heavy sound made their speedy exits). Dawn of Ashes managed to crank out nearly their entire album Anathema without hesitation, and even drag a few guest performers up on stage along the way.
Whether you've heard of Dawn of Ashes or not, an impression was definitely made that night amongst all the attendees.
You can connect with Dawn of Ashes at their official website http://dawnofashesofficial.com/, and Facebook.
Lineup:
Kristof Bathory – (Mastermind / Song-writer / Producer / Pianist /
Keyboards)
Bahemoth -(Live keyboards / studio engineering)
(LIVE – MEMBERS)
Syrus – ( Live Guitars / Studio Guitars)
Krz Souls- (Live Electronic percussion)
Jon Siren – (Live Drums)
Dawn of Ashes Concert Photo Gallery
[Photos by Anabel Dflux]