LIVE! | Dillinger Escape Plan with The Faceless and Royal Thunder
by Jonna Ambur
– Senior Photojournalist —
APRIL 28, 2013 at TOAD'S PLACE in NEW HAVEN, CT. —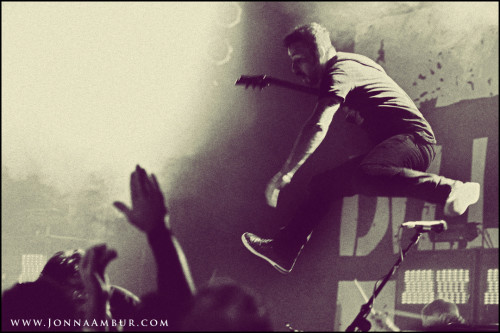 When someone mentions The Dillinger Escape Plan, the general response is, "Those guys are nuts!" The show at Toad's Place was no different. From the moment DEP took to the stage, the energy in the room was pegged. The fans kept a constant mosh pit for their entire set and the band's performance was full of insanity.
DEP is more than your typical hardcore metal band — they imbed themselves with their fans. With people allowed right up to the front of the stage, Greg Puciato (vocals) just had to get into the mix. Tossing his monitor off to the side like a toy, he was right there in the middle of all the people that had been waiting to see them. Ben Weinman's (guitar) acrobatics kept everyone pointing and wondering whether he was going to hang off the rafters, jump off the monitors, or toss his guitar into the crowd. At some point something must have hit him in the face, leaving him with a cut on his face, but it's unlikely he noticed. There was never a dull moment! Liam Wilson (bass), Bill Rymer (drums) and James Love (guitar) completed the band Sunday night. These guys are a sight to be seen, true performers and amazing musicians!
DEP has five albums to their roster and all have maintained that same level of crunching hardcore metal with a punk chaser. Puciato was recently named Number 1 in Metal Sucks' Top 25 Modern Metal Frontmen and the band performed at the 2013 Golden Gods Awards in Los Angeles, Calif. on May 2.
Dillinger Escape Plan Concert Photo Gallery
[Photos by Jonna Ambur]