LIVE! | ROCK ON THE RANGE 2013 DAY 1
by Chris A.
– Senior Photojournalist —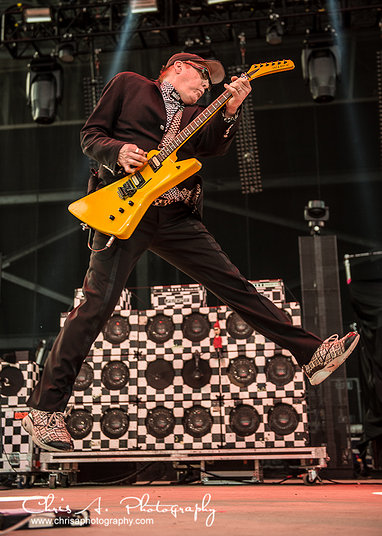 Grey skies welcomed the attendees to the 2013 Rock On The Range festival in Columbus, Ohio's Crew Stadium on the opening Friday morning. Now an institution and in its seventh season, Rock On The Range brings some of the best rock n' roll bands in the world to the capital city of Ohio. For the first six years, the show was a two-day concert event but as the popularity of the event has soared, this year the show was expanded to three days.
Friday's show featured 10 bands on two stages, the Crew Stadium Main State and the smaller Jager sponsored stage. The diverse lineup included:
X-Factor-1
Love & Death
American Fangs
Hollywood Undead
Mindset Evolution
Buckcherry
Oleander
Cheap Trick
In Flames
Korn
Diversity is one of the keystone of Rock On The Range's success as a festival. Just a quick analysis of four of the bands tells the story:
-Buckcherry; one of America's best rock n' roll party bands touring in support of a great new album.
-Cheap Trick, The classic rockers from Rockford, Illinois are known by millions of people around the world.
-In Flames; incredible in your face heavy metal from from Sweden.
-Korn; iconic innovators and one of the genuine heavy weights of the "new metal" movement.
Fans for the show arrived over the afternoon and by six p.m., it was pretty obvious that Rock On The Range's Friday night event was sold out. You can see a few of the photos here and more at www.chrisaphotography.com. With two more days of amazing rock n' roll to come, Rock On The Range is more than just a concert, it's a great musical and social event.