LIVE! | Shinedown with Bush and Airbourne
by Jonna Ambur
– Senior Photojournalist —
MAY 3, 2013 at MOHEGAN SUN ARENA in UNCASVILLE, CT.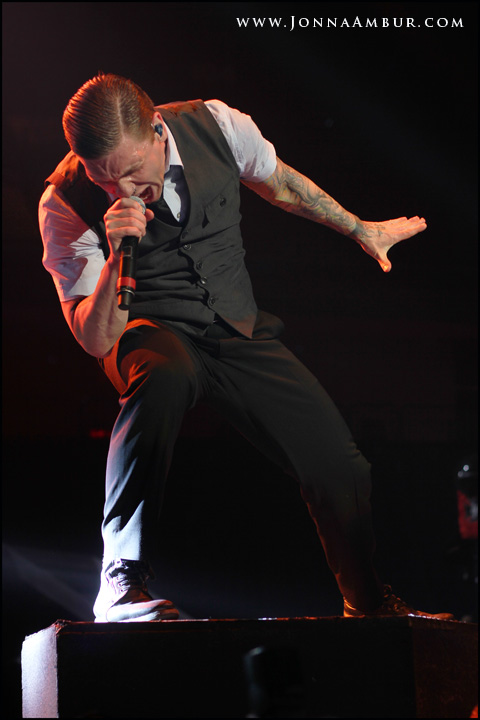 Shinedown is from Jacksonville Florida. Producing hit albums since 2003, Brent Smith (vocals), Eric Bass (bass/piano), Zach Myers (guitar) and Barry Kerch (drums), rocked the Mohegan Sun Arena. Playing favorites like "Enemies," "Devour," "Unity" and "The Crow and the Butterfly" right out of the gate, the band was on point, with the top notch vocals and musicianship that they've been known for.
Their current tour is in support of Amaryllis released in 2012 which is preceded by studio albums The Sound of Madness (2008), Us and Them (2005) and Leave a Whisper (2003). With over six million albums sold worldwide this is a band that prides themselves on creating music that is always evolving. Next on their list of accomplishments will be an album that features 10 acoustic covers to be released over 10 days that include songs that were chosen by fans.
Shinedown's set went on to include "Diamond Eyes," "45," "Simple Man," and "Bully." It was a night of true, solid rock and roll. A tour to catch for sure!
Bush and Airbourne are currently on tour with Shinedown. After wrapping up in the US this month, they move on to Canada and the UK through October.
Bush is touring in support of their fifth studio album, The Sea of Memories and features Gavin Rossdale (vocals/guitar), Robin Goodridge (drums,) Chris Traynor (guitar) and Corey Britz (bass).
Airbourne is touring in support of their 3rd studio album, Black Dog Barking and features Joel O'Keeffe (vocals/lead guitar), David Roads (guitar), Justin Street (bass), Ryan O'Keeffe (drums).
Shinedown Concert Photo Gallery
[Photos by Jonna Ambur]