by Gary Dean Ash
– Columnist —
May 14, 2013 at Knuckleheads in Kansas City, MO.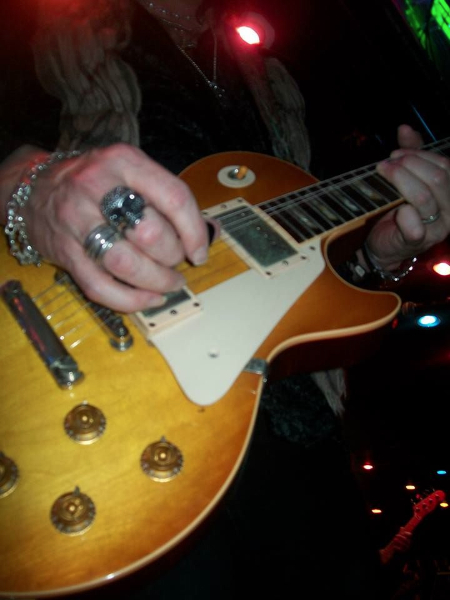 Tom Keifer took the stage at Knuckleheads, a venue off the beaten path in Kansas City, Mo., that is near the railroad tracks and is reminiscent of Cinderella's third album Heartbreak Station. Keifer's solo tour in support of his latest studio album, The Way Life Goes, was highlighted by the music and hits that spans his musical career.
It all began on acoustic guitars, with Keifer asking the fans if they wanted to hear the stories associated with the songs. In one story, he talked about the origins of the Cinderella hit "Shake Me." Keifer, with a brand new guitar his mom gave him, began to strum some riffs. All of a sudden, he saw a girl who had quite the walk on her and inspired him to write the song. The song was performed as an acoustic blues jam, inspiring the crowd. His wife, Savannah, joined him on the next song, "You Don't Know What You've Got," which was a nice surprise, and she made several appearances throughout the set.
Just before "Don't Know What You Got" a voice in the audience clearly was heard saying, "It's been 13 years, motherfucker." Keifer obviously got a kick out of that statement and said, "I know you meant that in the most complimentary way." Welcome back to KC, Tom!
Next up, was the song "Coming Home" from Cinderella's 1988 album Long Cold Winter. "Solid Ground" kicked off the rocking part of the set, and Keifer played harmonica on "Cold Day in Hell." The band played five songs from Keifer's new album The Way Life Goes, They fit in nicely with the well-known Cinderella songs. Keifer even performed a rousing rendition of the Lennon–McCartney song, "A Little Help from My Friends," which was very reminiscent of Joe Cocker's version. The whole show was very good and culminated with "Gypsy Road." Fans were glad Kansas City was a part of the tour.
Set List:
Sick for a Cure
Ain't That a Bitch
A Different Light
Shake Me
Ask Me Yesterday
Flower Song
One for Rock and Roll
Solid Ground
Cold Day In Hell
Don't Know What You Got
Coming Home
Shelter Me
Little Help from My Friends
Gypsy Road