Madlife | 21st Century Megalomaniac
by Jenn Carbaugh
– Columnist —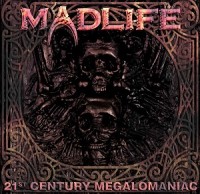 Madlife's much anticipated fourth album, 21st Century Megalomaniac, has released, and it proves that this band is redefining metal and hard rock. Madlife formed in 2000, and ever since then, this industrial metal band from Los Angeles has continued to contrive an electric and gritty sound. In 2006, they began doing more than just recording albums; they started to record tracks for film and television. Not only is their music embedded within their talent, but they are multifaceted as well.
Madlife has played the Rockstar Energy Mayhem Festival and has shared a stage with legends like Korn, Slayer, and Marilyn Manson. 21st Century Megalomaniac is a startling EP that makes you want more than the five tracks. Each of the tracks has their own sound, so there isn't any redundancy that some albums have. All five songs are mood pumping songs that combine tantalizing lyrics with a harsh but appealing sound.
The lyrics are as equally important to the coarse vocals that release them and the exceptional instruments that provide the beat. "Just One Gun" is a monumental song with lyrics that have quite the impact. The story of the song is enthralling in general. This song gives commentary as the perspective of a gun is told. The idea behind the composition is that guns are manipulated by people. There is a constant build and strength within the combination of the vocals by Angry Phil and the instruments. The execution of the song is inspiring.
The rest of the songs are just as positively overwhelming on this EP. Madlife is great at having intense metal guitar abilities and heavy drum work, but "I Know the Feeling" takes an approach that gives way to softer side of the band. The music is still profound, but the despair in the vocals is hauntingly admirable.
The grinding sound that this band releases drives and blends the electronic synthesizer work, deep drum steps, and flexing guitar and vocals. The churning melodies that Madlife produces keeps the listener ready for the different but striking tracks offered on this EP. This is a highly recommended album. This is definitely a band with a distinctive sound.
Genre: Industrial Rock
Band:
Isaiah Stuart – guitar
Angry Phil – vocals
Kyle Cunningham – drums
Carlos Pagan – bass
Track Listing:
01. Just One Gun
02. To Live and Die in Hollywood
03. I Know the Feeling
04. Pain of Pleasure
05. Still Alivee
Website: http://madlifeofficial.com/
Hardrock Haven rating: 10/10