by Jenn Carbaugh
– Columnist —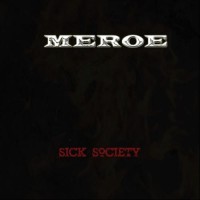 Meroe has released their third album, Sick Society, and is already working on their next one. This heavy rock band originates from Munich and has a very '80s style with catchy hooks and riffs that are decades old. Their sound is simple in terms of the '80s German hair metal.
Sick Society is an 11 song collection with nothing out of the ordinary. There are songs like "Never Let You Go" that have an amusing, sing-a-long type of chorus. This band sounds like many of other stadium rock bands. The talent is there in terms of the instruments. There are lengthy guitar solos combined with a vintage beat in every song.
The musical composition is not bad, but there are a lot of other '80s style bands out there. Oliver Monroe leads the band with his decade defining vocals. There is almost a whisper or conversational tone within his voice. It doesn't always sound as though he is actually singing unless there are the typical "oh's" that pop up on occasion. The style is perfect if you are looking for that throwback hum.
With a sound similar to the Scorpions and with a touch of Rainbow thrown in, Meroe can be compared to many other decade-style bands. "Children of the Innocence" has a familiar Dio sound within it. There are even tracks like "Last Days in Paradise" that are slightly reminiscent of Iron Maiden, but they are simpler and not as profound.
There is very little originality within their music, but there are multitudes of fans of the hair metal era, so they have a niche. It is just a shared niche. It's an average album with decent music. It is recommended for those who like to keep to the classic style but venture away from the typical '80s legends like Journey.
Genre: Traditional, Heavy Metal
Band:
Oliver Monroe – vocals
Alex K. – guitar
Andy Lorenz – drums
Peter – bass
Track Listing:
01. Wild Tonight
02. Children of the Innocence
03. Let it Rock
04. Last Days in Paradise
05. Here in My Heart
06. Kissing a Dream Goodbye
07. Never Let You Go
08. Show Your Love
09. Sweet sister
10. Let the Eyes Do the Talking
11. Canadian Lady
Label: Independent
Website: http://www.meroe.de/__/Home.html
Hardrock Haven rating: 6/10