Scott Holiday of Rival Sons
by Marija Brettle
– Columnist —
APRIL 13, 2013 INTERVIEW AT THE METROPOLITAN UNIVERSITY IN LEEDS, U.K.
In late 2008, four Californian retro rockers decided to be a band and called themselves, Rival Sons. From the start their mission was to bring back the real, honest and soulful sound of the 60s and 70's, to a whole new, higher level. As the bands guitarist Scott Holiday would like to state,' It was the bands conscious decision to fill the void in rock music. It was something what Rock 'n' Roll have been missing for a while, and needs to be filled right now!'
By marrying blues, soul and good old groove to classic rock, they've created their own unique retro- sound. The sound that's been praised, by the sometimes cynical rock press, not to mention getting props from no other than Jimmy Page himself.
Following previous releases Before The Fire and Pressure and Time and more recent release of their third record, Head Down, Rival Sons began 2013 with short tour of the USA and Canada, before moving on to Europe for another tour across the UK and the continent.
During the bands recent UK tour, HARDROCK HAVEN had a chance to catch up with Scott Holiday, lead guitarist of Rival Sons. Scott kindly shared with us his High Voltage Festival experience, his thoughts on the state of music industry today, how the band got together and the fate of meeting Jay, the future plans and their UK upcoming Download Festival show, in June this year.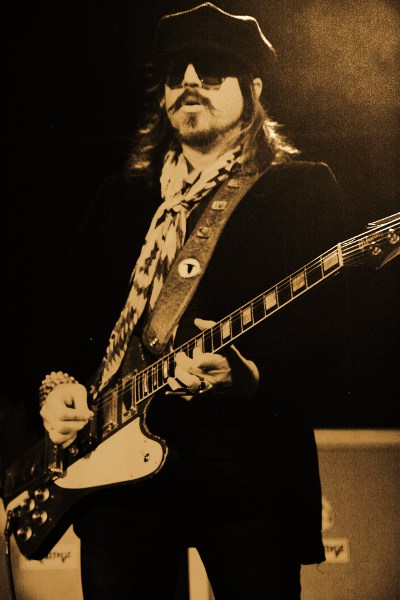 HARDROCK HAVEN: Hi Scott, many thanks for taking time to talk with us today. How are you coping with English weather … so cold today? (Laughs)
SCOTT HOLIDAY: Hi, how are you! Well … it's England. (Laughs) Don't mind it really…as long as my show is sold out tonight … and we have a sold out show tonight! Sweet! (Laughs)
HRH: I hear you had a real blast the other night down in London, (at Shepherd's Bush Empire Venue)?
Scott: Yeah. It was incredible night, amazing experience! It was one of our bigger UK shows, definitely in London, besides the festivals or something like that. But also it was an awesome experience playing in Empire Venue. We were totally taken by the atmosphere of this Venue! There are not bad seeds in the house! It feels real good to play in a very classic, historic, beautiful building and you know it helps as well if it's sold out show! (Laughs)
It was weird you know, when we came out, I had this feeling like I am at home. When I came out, immediately I felt this electrifying energy and warmth from the crowd. I suddenly felt this strange strength … kind of reassuring feeling. It's like, these guys actually came tonight to see us and have a blast! Wow … that's quite overwhelming feeling! People here have been so good to us right from the start!
HRH: From all the feedback you've been getting so far from the British fans and the media, it's evident that there is a major love for Rival Sons here in the UK. Especially in the past few months, you've one of the most talked about rock bands around. Why you think is that?
Scott: All I can think is because we loving them back. We absolutely love coming here in Britain! I mean that's so evident by now. (Laughs) The audience is really amazing here. We immediately had this great connection with the crowd! I think that is the most valid experience for any band, whiles you are trying to get any reaction from the audience. I don't know … is really all over Europe now, you know.
HRH: Like Scandinavia? You are really big over there?
Scott: Yes, Scandinavia does very well for us … as well as Canada. I think the answer is, we are our own team of people focused on it every day… so, we found our audience. When we came out first two month we make no money. Nothing at all! So yeah, it was a long road for us to get here … and I don't mean Leeds. (Laughs). We have media helps, our business people helps, and then our touring. Most of all, our tenacity! It takes a time before some magazines say to you 'Guys, we wanna put you on the front page'! Or we wanna do a four-page spread on you. I mean there's a many bands here, that we love and think they are best next thing. So, to get all this attention and interest from people is very reassuring and crazy at times. (Laughs).
HRH: Well, people here seem to love the nostalgia of the good old soulful 70's sound …
Scott: Its king of humbling experience, also inspiring. Nothing more empowering when you know that you are appreciated by so many people out there … and the media been real good to us.
HRH: Could be also a bit of an ego-boosting, esp. when you're getting praises by the likes of Jimmy Page? (Laughs)
Scott: Yeah, a bit crazy, but very exciting time for the band. I like to think our music speaks to musician of all genres. There are a lot of other great bands throughout Europe and the UK right now. But why we're popular over here…its tough question, you know what I mean. It's hard to know what people think of you when you are up there. I mean, it's an incredible experience when people respond to your music. You know what I mean? It's like you feel that warmth and energy sent back to your from all this people!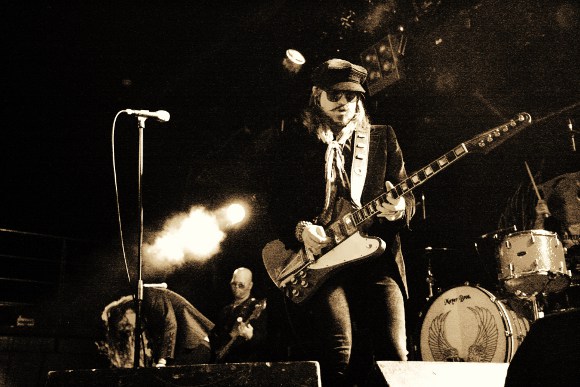 HRH: During the High Voltage Festival 2011 in London, you caused real stir in the crowd, especially when the 'Pressure and Time' came on. There was this instant charge of energy and excitement? How was it for you that day playing in front of a massive and very loud audience?
Scott: High Voltage Festival was an awesome day for us! It was a first big Festival show for Rival Sons in UK, well in London. We meet some amazing people.
HRH: You also were double booked that day. I heard that you got called to play a second set headlining the Metal Hammer stage, to cover for Electric Wizard. Was it daunting to take over metal band and stand up in front of all those usually unruly and very vocal crowd?
Scott: Yeah, really scary! (Laughs). We just finished our half hour set on the main stage, when we we're called to cover for Electric Wizard. They got stacked somewhere in Norway! I don't know something happened on the way they were traveling back to UK. So, it was like on the spot…the moment we walked up on stage, and we played our first set, somebody came on stage and said to us; 'The headlining on the stage over here is not happening … would you guys take their slot?' Guess what? The headlining on that stage was the band that we were dying to see that day! That was a bit freaky, you know? (Laughs) So, at first it was a bit daunting thought, taking over a band that is quite different from us. I mean these guys a bit heavy and there was a chance of people throwing piss bottles or something at us (Laughs) … expecting heavy metal band! We got to play a long set. I remember there was this volt restriction that day and in the evening you can't turn the sound up loud. It was kind of odd, and there were people in the crowd who noticeable weren't happy with the whole sound situation! I mean when you go to see rock bands you would expect a loud sound!? Wouldn't you?
HRH: You often point out that you came into rock music when the music reached the real rock 'n' roll end and that you filled the void in rock music. That you were the answer to what was missing in rock music for a while? Do you still stand by that?
Scott: Oh yeah! Although I think there is also a whole bunch of rock 'n' roll happening right now. I think the crowd and the media were ready for us! Gosh, we play with a whole bunch of great bands, out of the UK, like a band called Ulysses. Another great band out of Sweden called Factory Frames. They're all doing something in that kind of genre.
HRH: Do you agree that, the rock music for a while gone in totally different direction … focused more on the pop music and the business side of it more than ever before?
Scott: What can I say … the rock music gone in a very different direction, and gone pretty heavy on it? I like this stuff too, but also, right now we live in this totally pop idol culture… We are drained-out of this 'idol culture', more than ever! I mean in a way, many rock bands are pushed on side by all this pop-craze culture. So, I think for the bands like Rival Sons … who truly repels all this stuff in the music, we also try to embrace all this in a weird way.(Laughs)
HRH: Rival Sons is fairly new band. Could you please tell me more about the background of the band? How did you guys get together?
Scott: Well, from my own perspective it all started after I left Atlantic Records with another band and it was really then when I felt huge desire to create this honest, blues rock band. A real, 'dirty', swagger-ly type of a band that I've been missing it all my life! For years, digging of the bands … bands likes The Small Faces and I am just not finding them. There were a few people that I knew and was thinking of. Guys like Jeff Wright who is fort front of many bands right now. I wanted really bluesy, really soulful stuff, but also I wanted to make a real, raw, organic rock band that actually contain the roll…you know what I mean? The band that actually had the soul and blues in the heart of it! So I started looking around for guys to play with, and I was introduced to Michael (Miley, RS drummer) through mutual friend-musician of Long Beach. Me and Mike we were into the same stream. We just hit it off as people very, very quickly. So we played some stuff together, then with another singer. Mike found Robin (Everhart, RS bassist) at the jazz gig and he said something like, 'I got this jazz guy, and he is not rock 'n' roll guy at all'. This was Rob … and he was so not a rock 'n' roll guy, that he thought John Paul Jones was a US naval sea Captain! (Laughs) It was like; do you know who John Paul Jones is?! Oh dude, he is this phenomenal guitar player!
HRH: But there is this famous American War Naval Captain called John Paul Jones? (Laughs)
Scott: (Laughs) Yes, there is … but also there is this English legendary bassist to! We have so much fun meeting him, talking about music in general and improvising for hours. We really have a real blast from the start. So I thought I could play with those two guys forever, you know.
HRH: Is it true you meet Jay Buchanan through Internet?
Scott: At the time we have another singer … real sweet guy and great singer to! So we made a record for EMI. We signed a deal with this singer. That record didn't come out. When the record didn't come out, what you do as a band? You figuring out why and what went wrong. I had a feeling you know, one of those deep-down feeling, that the singer situation wasn't quite working out. So, we had somebody … yeah, the singer friend saying; 'You guys need to lose this singer, and I wanna front your band'. So I went back home and gone on Internet to see what this guy was doing. So I thought, hmm … is good but he is not actually perfect choice, you know what I mean? But on his side was a link for this guy called Jay Buchanan. And boom! It was like a cosmic send to me! It was like this destiny waiting to hit me … right through my heart!
HRH: Destiny by the name of Jay Buchanan?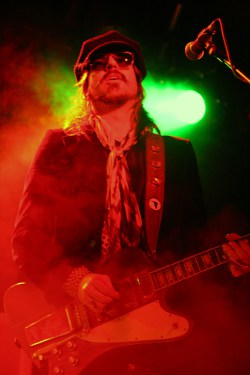 Scott: Yeah, this is it! Although, when I heard his name I didn't know who he was and what he was doing, nothing! But just out of boredom, literally went on Internet, and was like, let's go and see who Jay Buchanan is. So, he is this big folkey kind of soul, bluesy guy. When I heard him singing, it was the song called, "Satan is a Woman" that he wrote, it was like, this is it! It was this thirteen seconds into the song and I just stop it and I went', I can't believe it! I've been fucking looking for this guy for literally… probably fifteen years of my life! It was like this lightning ball that hit me right strait to my heart…no, actually deeper… he really touch my soul! It was like wow! So I called my wife and said; 'Listen to this…you know me what I been looking for all this years? She just started crying. So I said; 'OK, that's it! I didn't know where he lives or anything else about him. I just called the other singer that was in the band and said that it's not working out, we are done! We have to just move on. At that point, I decided that I have to move on with my own stuff the way I felt its best for the band and myself personally as an artist. Whether Jay is in my band or not, there is another Jay out there. I was just ready to move forward. So I told Rob and Mike. Mike just cracked up. He goes…'Jay Buchanan is one my dearest friends! I played in his old band; he lives here in Long Beach, in our city! You gotta be kidding me…really!? So this was one of those amazing non-coincidence situations in life. (Laughs) This was very cosmic and it goes deeper how far we come closely with our live. Mine and Jay's life runs to each other way before we ever meet with each other. Jay had his whole own career. He had his own band, his own writing stuff. So Michael called him and said to him; 'look dude, my guitar player freaked out on you…like he is totally convinced that you are the right guy for our band. You need to call him, just give him a ring. So Jay called me with no intention joining the band, certainly not a rock band! (Laughs)
HRH: Really?
Scott: Yeah, he had a career…his own stuff. I know he heard about us, but that was all about it! So we did talk and we connect pretty well on things like; 'Oh, that's a soul music, this is the lineage of blues and rock 'n' roll, and how everything fits together in our own perception. We then both agreed that this is what really is missing in rock right now! So it was the real reason why I was on this journey and looking for people like Jay! (Laughs) It was the mission of mine! It's not just being in the band and be one of those cool dudes, hitting on girls and stuff. It's a kind of mission to bring this sound in the rock music. It's this big hole … a big void and we need to fill that hole right now, damned! (Laughs)
HRH: Yeah, you been often praised by RS fans and the media for your insatiable thirst for rock music?
Scott: I don't know how I should describe it. I mean, it's just this void in the rock music that needs to be filed by these four insatiable, hungry guys. Guys who want to bring love into the music! Give people what they want and what they've been waiting for a long fucking time! (Laughs) Let's make people feel good! So, we played couple of songs and improvised it for another 45 minutes together. It was great, it was fun … it was electric!(Laughs) We agreed to meet up again because that was really, really fun.
HRH: At this point, did you have any inkling that Jay is ready to join the band?
Scott: Yeah. I had a very good feeling that we were on the same direction, with the same mission. So, we got back together, played again, and it was even better! We walk out together and Jay looked me strait and went; 'I guess I am with this band then?' That was it, the beginning of this band. (Laughs). From then on we started to write. The record we made for EMI never came out. So what happened? We made our own money, licensing our new stuff. We went back in the studio and I asked Jay, if it would be ok to sing all this songs that I have written earlier. It's my prospective and the rest of the songs been written together with our producer Dave Cobb. He just agreed. That's 'Before the Fire' record was out'. So we did it all in one day! Even songs like; "On My Way", which was important song to me. Jay just came over and sang… it was all in one take! It was like, 'the first take was sooo perfect, like don't even try to sing it again! (Laughs) It was lot of that, first take, second take and bum! We are done! I knew will be like that, because I knew who Jay was as an artist and singer. He was just one of those amazingly rare voices, you wish to have him in your band. He just has this awesome soulful, bluesy, voice, which goes deep to your heart.
HRH: …and soul. Yes, stunning voice!
Scott: I mean, we are the luckiest guys to have him singing in our band!
HRH: At the beginning of this band you were primary writer. Where do you get inspirations for the songs?
Scott: Maybe at the beginning I was primarily writer, but soon we were this four guys writing together. We write very much collaboratively even when we are putting riffs together. Inspiration … (hmmm) it's difficult to pin- point where do you get inspired from. I guess it's everything really in our work and lives. Its music, its people and the artist we are listening to right now and in the past. Traveling around and meeting inspiring people from all walks of life. I am definitely inspired by my own family and love they give me. Definitely inspired by the other bands, other arts, you know…
HRH: On this tour so far it seems you have a real blast. Do you have any- more recent highlights you would like to share with us?
Scott: Of this tour? Yes, certainly! The London show was huge highlight! We meet some great people and friends, who responded so well to the band. Most of the tour gigs been real success. The tours are selling now, so every new tour now its highlight of the year! We have all bunch of great stuff ahead. We are so busy right now, it's like, hey, were we are right now?! (Laughs) Honestly. I feel like highlight is every day of this tour! Like now, at this moment … talking to people, shearing some cool stuff. We are in this light-highest moment!
HRH: You just made up a new world?! (Laughs)
Scott: That's right! This is the highest we ever been as a band. That's how I feel right now, today, because we are having a blast touring and meeting great people! That's awesome dude! Nothing can bit that! And we are for a sold out Leeds show tonight! What more one dude from Long Beach could ask for!? (Laughs)
HRH: Dave Cobb produced 'Head Down' as well as other Rival Sons records. How did you guys get together with him?
Scott: Through the mutual friend who also lives in Long Beach. So I've been friends with Dave for a while now. We really work so well together. He is like this fifth band member. I think now days, you got to have the right producer who is totally in the same time frame when it comes to recording down your songs. It's getting harder these days to find guys that know how to deal with the band on the spot and enjoy it as well, which is basically how we work with Dave. I mean, when we're creating our instant records! (Laughs) We're writing on the spot and he really has to capture that on the spot!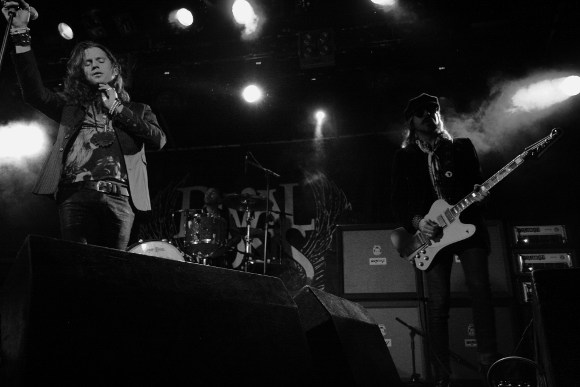 HRH: Well, you are famously known for the fastest recording albums. Why the hurry?
Scott: You have these producers that wanna spend weeks, getting a right snare tone, track all the drums, track all the bass, and then come in and do guitars. It's really pieced apart, which is really weird, and Dave really embraces all that. He enjoys doing it the way we do it.
HRH: You've been described as 'old school' and 'retro' rockers. You recently mention in one of your Interviews that you don't like much when people labels RS sound. So how do you describe the Rival Sons music?
Scott: I mean, the 60's and 70's sound was just amazing! All those records sounded incredible! Everything sounds good from that era, the guitar tones, the drum tones, the singing, everything! So it's not like we try to recreate the 70's old, vintage rock. Or we go in the studio with the thought of; 'let's make an old 70s record. Let's make a Led Zeppelin song!' Well, some people like to call us a classic rock band and it's not true! I don't understand all this labeling bands, but I think it's important for me to clarify that we live now; we make music for people now and for everyone's taste. Rather than trying to be vintage band, we just try to bring back the best of Rock 'n' Roll sound! How's about that!? (Laughs) That's what people want to hear from a rock band! We try to be very honest, with raw riffs; raw songs and they transform themselves as we work together. As much as we gonna listen to The Small Faces, we are also listening to Miles Davis, we are listening to world music. So I want our music to reflect that fusion of all this music we listen to! Like right now, today I've been listening to some kind of pop artist too. On the other hand, they are great artist out there right now. There is an artist I listen to it today called Jake Bugg. I have great respect and love for his stuff.
HRH: He is from Nottingham. He certainly has been making an impression on the music scene lately.
Scott: Yeah, he is this young kid I am listening to right now for the first time and is real good stuff. It's so much happening right now. We play with a whole bunch of great bands. Like this guy's tonight, called The Ulysses. Then there is this great band out of Sweden called Factory Frames. They're all doing something in that kind of genre. Well, hmm… in the States, a little bit less this days. Don't get me wrong, there's some really fucking good ones over there too, but the bands that really starting to poke out, you know… maybe the one's that labels wanna take a little chance on seem to be a little more slick, which we don't want. We want it dirty and real honest rock, right from our heart! I think people who believes that the real-deep and right from the heart rock 'n' roll did existed just in the 60's or the 70's or whatever, are short-sighted, you know what I mean? There are some great bands out there, real talents!
HRH: Following your debut album, "Before the Fire", you were literary snapped by the Earache Records, who usually goes for the death-metal bands? How they found you?
Scott: Ah, they found us on Internet and that was it. They contacted us. My manager asks me if we want to do a deal with this death metal record label. We just said no, because at first- it all sounded a joke. We hang on this for a while and carry on working and they came back and said; 'we want to sign you band for real this time. Not a joke, we really have interest in you. So please review this deals seriously. So we looked at the deal and the deal was very favorable to us. You don't find every day record labels who works in your favor, you know. Most record companies basically have their hand first in the cooker jar. So whenever band makes any money, they got there first. We don't wanna to sign deal with labels like that. My manager is not gonna negotiate with deals like that. I mean, we put the food down on that early on, before we sign anything. It s ridiculous…you know, the big record labels are dying, so they think it's alright draining the artist to stay alive. Well we are not gonna let them to do that to us! So we were very lucky that we got the deal from Earache. They have done a great job so far.
HRH: With your second record 'Pressure and Time" you enjoyed a great success. Were you surprised with the bands sudden meteoric rise to fame?
Scott: Oh Gosh…sure! It was surreal time for us. I mean, every time you get positive reaction, positive reviews from the critics and you get this new fan-base springing out in a big way, it feels real good. Although in this business you never know which direction you gonna go each time with your new records. After the reaction we got from people and the critics, we got all excited and got this sudden confidence in what we were doing, but at the same time it was very humbling experience. You know, I am Capricorn and I am logical, grounded guy, but this was something…I am excited every night! Like when I found out that Leeds show has sold out, I got this sudden rush of adrenalin! Yeah, I am ecstatic! (Laughs) But also I feel a great depth to all those RS fans that came down tonight to support my band. So, I think with "Pressure and Time" it was like, 'Oh my god, we are going to meet this people every night and travel around!
HRH: Do you get annoyed when people compare you with bands like Zeppelin, Cream … not to mention how often Jay is compared to Jim Morrison, Robert Plant or Paul Rogers?
Scott: (Laughs) We get that often…and I must say it's a real honor and real complement to us, because all this guys were our heroes. But beside all that, we are Rival Sons and we have our own sound, our own take. I mean, we carry our own torch! My comments to that are; 'We can never pretend and act like we are trying to take their place or anything like that. They are our guru-men, here you go!' (Laughs) So yeah, we make music to our best abilities. Music that appeals to people now! If somebody say to us; 'you guys are like Led Zeppelin of today, then I would say to that; 'Oh no! It's kind of the kiss of death situation, you know. There is no other Led Zeppelin! There is no other Bob Dylan …it won't happen again. No-one gonna replace the Rolling Stones! They can just stand in their shadow for a while (Laughs). That's all you can do. That's all we do … we are standing in the shadow of those great music giants, this great people and we have no intention of trying to be them!
HRH: Do you think that the rock music today, gone in totally different direction, and all thanks to Internet, to the point that it lost its soul and identity?
Scott: Yeah. I mean the Industry absolutely turn on the zero, because the way the industry is working right now. Different doors are open for lot of types of music, types of artists, different areas. People with no money, no label became quickly famous on Internet. I think we are on renaissance era right now! I think we gonna look back and will be like, 'this was a birth of something totally new and revolutionary in the world of music. This was the way where everybody can have the recording studio in their home…we can access and touch the music immediately! I can download anything you tell me about right now… bum and I have it all in front of me! So I think this is the renaissance period. It's something that never happened before. It's unprecedented experience if you are collector or music lover, art lover. We have great artist right now, great music! I think we have this new revolution happening right now as we talk. I think its steering up a lot of art.
HRH: In your own kind of perception, what Rock 'n' Roll means to you?
Scott: I think it's an elusive term. When somebody says, what the rock 'n' roll meant to you, the first image that comes to me is the world of music I did grow up to. On my mind is an old video of Elvis Presley, Chuck Berry and Little Richards … that's the thing, the girls screaming … it's a rebellion thing. It's a freedom, when white people dancing for the first time to black music. This is what Rock 'n' Roll means to me. This is what really Rock n' Roll represents to me in my mind when I think of it. In the early days, when people like Bo Dudley and Chuck Berry, Jerry Lee Louis, Elvis Presley played Rock 'n' Roll, It was actually all very innocent and awesome experience. But also there was this element of a rebellion kind of feeling attached to it. So it was all in the name of Roll 'n' Roll! Really, loud, really fast rock, girls pulling off their tops! This kind of simple things.
HRH: You mentioned recently that, all your records sound very different. What did you meant by that?
Scott: Well, between the "Before the Fire" and "Pressure and Time" it's so obvious that we're bringing in very different influences, different musical direction. In a way we all come from a different music background. I mean Robin is a jazz dude. Jay was into folk and soul stuff. So we all bring different influences into the band and that reflects well in our songs. When Jay join the band, his writing influences almost devoid on our first record, but stylistically his influences certainly showing up. I mean lot of his melodies were in place very much. "Before The Fire" was much more of a mad kind of buzz-blow-out meets like a lot of eastern influences. "Pressure and Time" sound was much tighter, very much soulful sounding record. So our second record is so much more of a British-sounding record, because that so deep in my heart. Always been… On the 'Before the Fire' I wanted to make something very me, a lot of eastern influences and my own spiritual background. It spreads out in a different way. With "Pressure and Time" there is lot 'of Jay influence on that record… much more bluesy, much more of a soul record. Well, "Head Down" is more jammy record.
HRH: By some, "Head Down" is very much in the vein of early Aerosmith …
Scott: We wrote down whole bunch of more stylistic points of view of the band and also most importantly expand the record. We wanted to open up and "Head Down" reflect that of what we been doing on the road for the last two years. So we expanded arrangements and then we kind of altered them.
HRH: 'Head Down' is great record. Love everything about this album. Still I have few fav songs that I love listen to … songs like, "Until the Sun Comes" and "Keep on Swinging". But one of my favorite must be the sorrowful and stunning ballad "Jordan" …
Scott: That's very kind of you to say, really. Speaking of first takes, "Jordan" was also recorded on one take. It was Jay's song that he handed in. This particular song was something that Jay was compels to write when we were home half through the session. So it was like, 'I have an idea guys that I have to write through it. So he comes out one night after we were done recording. Yeah, he comes down … he didn't say a world. He seats down and started to play "Jordan". It was like we were all choked down … like that's an awesome song dude! Wow, you just played one of the most soulful, bluesy songs we ever heard it!
We were so inspired, so we did play the song to David, the producer. So Dave took off his head phones and said it loud; 'Yep, I don't think we're gonna bit that! I think we just got the song! It was all quite fascinating, you know…?
HRH: As you are famously known for fastest writing and recording albums, do you write on your new record?
Scott: Of course we are ready right now and we are ready to maken it 15 days this time! (Laughs) We are ready to making it immediately right now. Yes we are anxious. No really, we are actually planning right now to get back into it.
(At this point we were briefly reminded about out time limit…)
HRH: By many, Rival Sons is the best thing in rock music right now. The future of Rock 'n' Roll! Before you go, is there anything you would like to share with all those new bands who would like to follow your path …?
Scott: It's a new world. Do what's in your heart! Don't listen to anybody. If you are doing something good, will come to you and soon. So go on and get it!
HRH: Looking forward to Download Festival in June?
Scott: Oh Yeah, absolutely! It's gonna be fantastic show this year! it's gonna be great fun! So, bring it on Download! (Laughs)
HRH: Thank you Scott for taking the time to speak to HARDROCK HAVEN. See you at Download!
Scott: Yeah, see you at Download! Thank you! Lovely to meet you! See you tonight!
Rival Sons Concert Photo Gallery
[Photos appear courtesy of: Jadranka Jade]