Thorsten Koehne, founding guitarist of Eden's Curse
by Nikiforos Skoumas
– Columnist —
Thorsten Koehne, founding guitarist of Eden's Curse is about to unleash their fourth studio album. Thorsten has also played the guitars on the highly acclaimed latest Hardline album Danger Zone having already left strong impressions in the AOR world with his lead guitar work in Sunstorm's second album House of Dreams.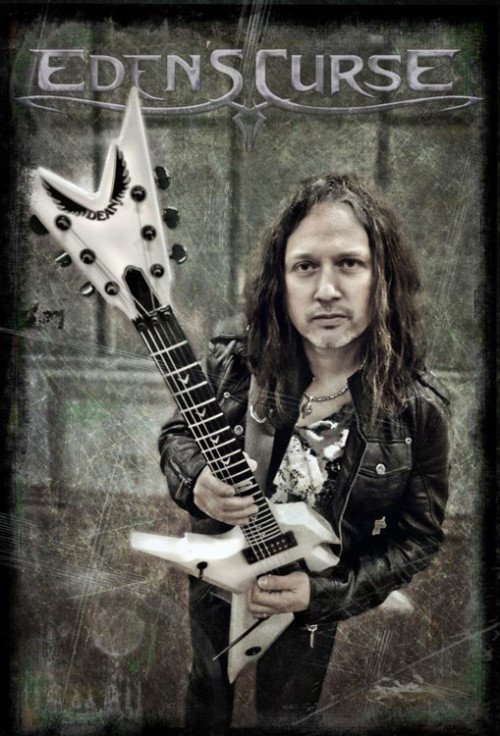 Hardrock Haven: It has been a year since the release of your latest incredible album with Hardline, Danger Zone. What has the market reaction been so far?
Thorsten Koehne: First up, thanks a lot! The reactions have been very overwhelming with the press and reviews hailing the album as one of the best since the legendary Double Eclipse debut. The fans love it and the video for the single "Fever Dreams" is almost hitting 200.000 views. So that´s of course very rewarding for us as musicians to know we can keep the high performance level of the original band.
Hardrock Haven: Since 2012 you and fellow Eden's Curse keyboardist Alessandro Del Vecchio have been full-time members of melodic hard rockers Hardline, how did this collaboration come about?
Thorsten Koehne: Well, as you said Alessandro and I are band-mates in Eden´s Curse so we´ve known each other for quite some years. Besides that Ale works and produces a lot for Italian label Frontiers Records. So when they approached him to produce an album with singer Johnny Gioeli and to put a band together for him I guess I was the first one he thought of for taking as the guitarist which of course was an honor for me. So this wasn't originally planned to be a new Hardline album but as the production continued and songs were shaping up to sound really great Frontiers decided to give the Hardline comeback idea a go and that´s how it all came together. Unfortunately I have to inform you that me and drummer Francesco Jovino (U.D.O.) are no longer in the band. It was Johnny´s decision to continue with other musicians and I can only speculate about the reasons for it but all in all it´s ok for me since the double pressure of having 2 recording and touring bands would have been too much in the long run anyway so this way I can fully concentrate on the new EC album now. The only disappointment for me was that I put quite some work into the new Hardline album which kinda paved the way for the comeback but besides the video shoot I really didn't get much out of it and I never got a statement from Johnny. Anyway, it´s a great album and I´m proud of my playing on it. I still feel the solo in "Stronger Than Me" is one of the best I´ve ever done.
Hardrock Haven: You also contributed the lead guitars on the great second Sunstorm album House of Dreams, how did that collaboration come about and what are your thoughts on that project?
Thorsten Koehne: That was really a dream come true for me. I mean, playing guitar for Joe Lynn Turner? I doesn't get much better than this. I´ve been a fan of Joe since the Malmsteen days and he definitely is one of the greatest singers in rock ever. The collaboration for this came from producer Dennis Ward who again produced all Eden´s Curse albums so far . So he asked me to play the lead guitars and solos on the album. It was such a pleasure and honor playing on all these great songs written by so many great people. The awesome thing was that Joe was tracking his vocals after I´d already played my guitars for it. So on many songs you can hear that, specially when we do the outros, Joe is is phrasing his vocal lines around my guitar leads. The guy who sang with Blackmore and Malmsteen is singing to my guitar leads … completely blew my mind!
Hardrock Haven: Eden's Curse are currently working on their fourth studio album, how would describe the sound of the new album in comparison to the previous?
Thorsten Koehne: I can honestly say that we all in the band feel that this is the best album we've worked on so far. We always said that we wanna get better and better and we really managed to top ourselves with this one again. So the sound of the new album has all the Eden´s Curse elements and trademarks of the previous albums just it´s all better. Better production, better songs, better sounds, better guitar playing… ;-) Also there´s some pretty heavy stuff on the album but at the same time I´ve never played so much acoustic guitar on an EC album. So it´s a great mix of both heaviness and melody. I´m sure fans will love it!
Hardrock Haven: As an artist who has participated in both melodic rock and heavy metal projects where would you say Eden's Curse stands musically? Is it more of a melodic rock or metal band?
Thorsten Koehne: I´d say both and that´s the beauty of EC. We´re not tied to a certain musical image or format. Basically we can do almost anything we want and if you listen to our previous albums you can find anything from slow ballads to balls out metal. Generally if you compare us now to our first album we´ve gotten a little heavier in sound but I think the most important thing and the link between all these different styles for us is the word "melody". It´s gotta have some kind of great hook-line to it because that´s what people are gonna remember and that´s what we as musicians want to hear as well. A great song is a great song no matter if you play it rock, metal or jazz style. It´s all a combination of the right chords and the melody working with it.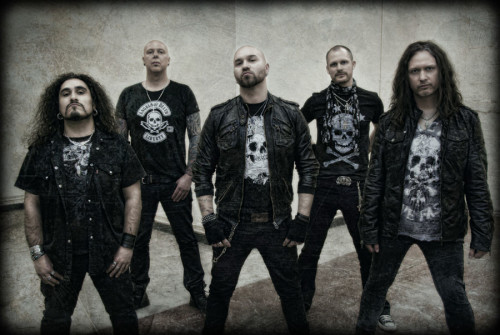 Hardrock Haven: All three Eden's Curse albums were released under AFM records, what is your relationship like with the company? And will you be featured on any upcoming projects by Frontiers Records?
Thorsten Koehne: AFM have always been good and 100% supportive to us so the relationship couldn't be better. We just recently signed a new worldwide release contract with them. About Frontiers Records…there´s no new projects planned from my side right now but that could change any day so if they´d approach me I´d sure be willing to collaborate as far as my schedule allows it. I recently played guitars for U.S. singer Danny Veras´s new album which is produced by famed singer/songwriter/guitarist/producer Paul Sabu. The sound is very much classic American rock so maybe that´s an option for them. We´ll see!
Hardrock Haven: Throughout the years you have been using various editions of the left-handed Razorback Dean guitar which has become something of a trademark of yours. Why would you say the Razorback is so special?
Thorsten Koehne: That´s great you noticed! Yes, the Dean Razorback is just perfect for me and besides being the most awesome metal looking guitar out there, there´s really a practical reason why I use this guitar. So of course the guitar sounds killer and the neck has super fast playability but it´s the body shape that´s really most important. I've always been a fan of the more odd shaped guitars like Flying V´s or Explorer´s. I really like the sound of the traditional guitars like Les Paul´s or Stratocaster's but always found the body shape to be not the best for playing live, specially with the lefthanded way I play. So growing up I watched Michael Schenker play and he always played this Flying V. When he was soloing, because of the way the V is shaped, he could easily hold the guitar between his legs and literally kneel into his guitar to shape the tone and give it a stability that would be impossible to do with e.g. a Strat. The downside of it is that you can´t play a V in sitting position for a long time because it get´s uncomfortable after a while. So the great thing about the Razorback is that it´s basically a cross between a Flying V and an Explorer. You can play it easily both in sitting or standing position which is really very, very important if you do these endless practicing hours to learn some new shred stuff. You can play the Razorback all day without getting tired!
Hardrock Haven: You are also well known for your unique guitar set-up having the guitar string in the opposite order; how did you come to develop such a style and would you encourage young guitarists to play in the same way?
Thorsten Koehne: Yes, that´s the first thing everybody notices and wonders about when they see me play but for me it´s really nothing unusual because that´s the way I've always been playing. I´m naturally left-handed but never had formal guitar lessons so nobody told me to put my strings the other way round and I just continued to do it my way. I always say it´s in now way harder or easier than playing the conventional way … it´s just different. So yeah, I´d encourage any young guitar player to play the way they wanna play. There´s really no rules to do anything just one way. If you can make it sound good, and that´s really all that matters, it is good!
Hardrock Haven: Will you be touring in 2013 as part of Eden's Curse or with any other bands?
Thorsten Koehne: So far the only thing that has been officially confirmed is our show at Firefest Festival in Nottingham, U.K. in October this year but we will definitely tour to support our new album. If not in 2013 than definitely in early 2014. So our management is working hard on it that you will see us live as much as possible. We love to tour and we love nothing more than playing live.
Hardrock Haven: Finally we would like to thank you for this interview, is there anything that we left out that you would like the fans to know?
Thorsten Koehne: Thanks a lot Hardrock Haven for having me and I just want to say thanks to all the fans for their continued, passionate support and their patience during these difficult times for Eden´s Curse as we were trying to find a new singer and weren't able to do things as quick as we wanted them. We will have an awesome new album out for you! Thanks for all the great e-mails and messages I get every day from all over the world. You guys rule!