Toranaga | God's Gift (Deluxe Edition)
by Justin Gaines
– Senior Columnist/News Editor —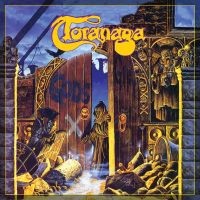 Originally released in 1990, God's Gift was the second album from UK-based thrash metal band Toranaga. The two years since their Peaceville debut Bastard Ballads found the band signed to a major label (Chrysalis) and poised to take their unique brand of heavy metal to a much wider audience. Sadly, Toranaga never really broke through to the wider audience their music deserved, but they did leave behind a truly remarkable album in God's Gift.
Toranaga had a very interesting sound. Most of it seems to be straight-up Overkill-style thrash metal, but there's a doomy heaviness that reflects an obvious Black Sabbath influence as well as a nod to the spirit and energy of the NWOBHM scene. There were a handful of bands at the time that were adept at merging power and thrash – Vicious Rumors, Helstar and Sanctuary come to mind – but Toranaga brought an almost doom-worthy heaviness to the mix that made them stand out from the crowd. "Psychotic" and "Hammer to the Skull" show the band at their thrashing best, while "Black is the Mask" and "Sword of Damocles" show just how heavy they could be. There aren't many bands that can remind you of Forbidden, Dio and Candlemass all in the same song like Toranaga could, and perhaps that lack of genre identity made it harder for them to catch on back when heavy metal was beginning to fragment into sub-genres.
Unfortunately, label pressure and internal strife caused the band members to part ways a couple of years after God's Gift was released. A new incarnation of the band, going by the moniker The Bastard Son of Toranaga, is now active playing and recording.
However overlooked it was at the time, Toranaga is a band that is sure to appeal to fans of classic heavy, power and thrash metal (and especially when those three intersect). The musicianship and songwriting on display on God's Gift are top notch, and the vocals, while on the rough side, are perfect for this kind of metal. If you're into bands like Overkill, Forbidden, Armored Saint, Savage Grace, Vicious Rumors and Helstar, you definitely need to check out God's Gift, especially now that it has been reissued.
Edition Notes: After more than twenty years out of print, Divebomb's 2012 reissue puts God's Gift back into metal collectors' hands. This Deluxe Edition reissues features digitally remastered audio by Jamie King (who has a stellar track record at bringing these thrash classics up to modern audio standards. It also features three bonus tracks, including a cover of Fleetwood Mac's "Oh Well," from a planned, but never released EP. The expanded liner notes include lyrics, vintage photos and a new band interview. It's a great looking and great sounding reissue all-around. If you're unfamiliar with Toranaga, this is the perfect way to discover them, and even if you already own a copy of God's Gift this is a more than worthwhile upgrade.
Genre: Heavy Metal, Thrash Metal
Band:
Andy Mitchell (g)
Mark Duffy (v)
Andy Burton (b)
Steve Todd (d)
Track Listing:
1. The Shrine
2. Psychotic
3. Sword of Damocles
4. Hammer to the Skull
5. Food of the Gods
6. Disciples
7. Last Breath of Life
8. Black is the Mask
9. Execution
10. Beauty & the Beast
11. Eternity's End
12. Oh Well
Label: Divebomb Records
Website: www.facebook.com/ToranagaUK
Hardrock Haven rating: 8.75/10