A Sound of Thunder | Time's Arrow
by Jenn Carbaugh
– Columnist —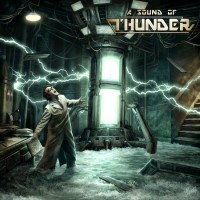 A Sound of Thunder has released Time's Arrow, and this album proves to be, if possible, a fun heavy metal soundtrack. It is compelling and doesn't have weak moments. Nina Osequeda is a powerhouse vocalist and gives women musicians a promising lead role. She has a range of styles within the album. The different emotions can be heard throughout compound notes.
Each track is equipped with decorating lead-ins. There are guitar solos and riffs by the plenty within this album. Every song has a superior sound. "Power Play" starts off the album, and it could have easily been the first single. It catches your attention immediately. "Queen of Hell" was the single for the EP release, and understandably, it was a great choice. There is an anthem-like nature within the intense lyrics. It brings back the fun edge to heavy metal instead of the assumed anger.
Not every song can be described as fist-in-the-air. "I'll Walk With You" is a ballad that brings new life to typical love song style. The story within the song is captivating and fresh. It is indeed a love story, but the setting is a zombie apocalypse. It is more than enthralling. It is a lyrical illustration of the creativity that this band brings to the table.
A Sound of Thunder is a Washington D.C.-based band. They are obviously fronted by a female vocalist. If this band hasn't made their way into your home or car, they need to be heard. This album is highly recommended for those who are interested in great metal without the same-old-same-old that is played on the radio.
Genre: Heavy Metal
Band:
Nina Osequeda – vocals
Josh Schwartz – guitar
Chris Haren- drums
Jesse Keen – bass
Track Listing:
01. Power Play
02. Time's Arrow
03. I Will Not Break
04. Broken Bridge
05. Queen of Hell
06. Let's Start A Fire
07. I'll Walk With You
08. My Disease
09. Wastelands
10. End of the Road
11. Reign of The Hawklords
Label: Nightmare Records
Website: http://www.asoundofthunderband.com
Hardrock Haven Rating: 10/10