Angels Of Babylon | Thundergod
by Matt Karpe
– Columnist —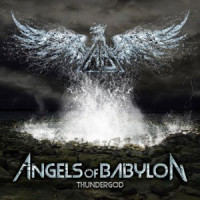 Ex-Manowar drummer Rhino returns with Angels Of Babylon's follow-up to the 2010 release Kingdom Of Evil.
As well as showing his class on the drum kit, Rhino contributes all the vocals to Thundergod, and he is joined by new recruits Alex Stephens on guitar and Jesse Ringo on bass. Together they have produced eleven tracks of '80s style speed and power metal whilst still making it sound modern and relevant.
The album title track begins proceedings, with Rhino's thunderous drumming starting from the off whilst the verses he sings are like less strained Slayer; mildly chaotic mixed with nice harmony. Stephens' excellent debut guitar solo gives a good insight into why he was hired to play in AOB.
"Sondrio" is a symphonic metal epic. Great atmospherics and powerful reflective lyrics make this one of the standout songs on the album.
The other show stealers are "What Have You Become" and "Turning To Stone." Both are slow burners, ballads if you will. "What Have You Become" starts with a small solo from Stephens and then a delicate piano undertone controls the tempo as Rhino sings of a lost loved one. Chugging guitars dominate a chorus that doesn't quite live up to the excellent verses.
"Turning To Stone" begins with some hypnotizing synth strings, and Rhino's elusive vocals captivate from the first word. It's like an '80s power ballad and as the song builds up to an emphatic ending, Stephens performs his best solo on the album, which makes this song that little more special. If you had to choose one- this is the best thing on Thundergod.
Unfortunately the other songs on here fail to live up to expectation. There are too many fillers that don't really go anywhere. More often than not there is a sense of repetition, and with most tracks averaging four-and-a-half-minutes long, it's just too dragged out. On "The Enemy," there is a pointless inclusion of a snippet of recording taken from a Charles Manson interview, which leaves the listener scratching their head and asking why.
Of course there are positives with Thundergod. Alex Stephens is undoubtedly a great musician, and his guitar solos are an overwhelming success. Rhino's vocals are pretty strong and as usual his drumming is excellent, but all in all Thundergod is a take it or leave it album.
There probably won't be too many new fans gained here, but the diehards will most likely love it and respect it, which in its own way could be considered a successful return for Angels Of Babylon.
Genre: Power Metal, Speed Metal
Band:
Rhino- Vocals/Drums
Alex Stephens- Guitars
Jesse Ringo- Bass
Track Listing:
1. Thundergod
2. Sondrio
3. Queen Warrior
4. What Have You Become
5. White Star Line
6. The Enemy
7. True Brothers
8. Redemption
9. King Of All Kings
10. Turning To Stone
11. Bullet
Label: Scarlet Records
Webpage: http://www.reverbnation.com/rhinoangelsofbabylon
Hardrock Haven Rating: 6/10