Brian Steele Medina of Gemini Syndrome
by Anabel Dflux
– Photojournalist —
Gemini Syndrome is a collective of 5 musicians originating from Los Angeles, CA in early 2010. Drummer Brian Steele Medina talks with Hardrock Haven's Anabel Dflux about the band, touring, the bands influences and more …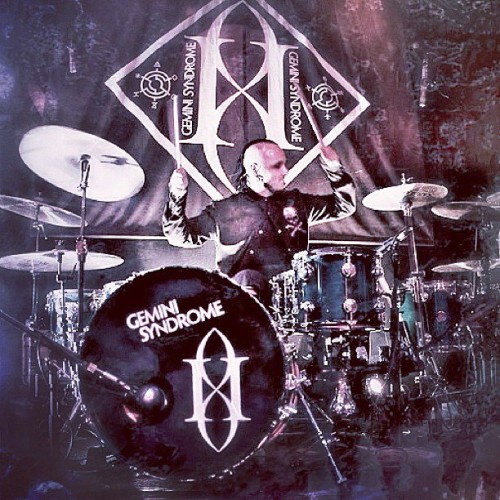 Hardrock Haven: Hello there! Thank you so much for answering my questions today. How is the tour going?
Brian Steele Medina: It's been great. We've been out with Mushroomhead, Device, Nonpoint, In This Moment & Redline Chemistry so far this year. It's been great to make new friends, see familiar faces and convert new Synners along the way.
Hardrock Haven: What's the story behind your band name, Gemini Syndrome? Is it really based on the astrological sign?
Brian Steele Medina: Like the zodiac twins, Gemini represents duality. "Syn" means to bring together, or simultaneous. Gemini, Syndrome… Acknowledging the separation within us all, and the inherit desire to connect or complete ourselves. Syndrome, Syndicate, Synners … all variants of the coexistence of conditions, ideas & people.
Hardrock Haven: I hear a lot of European metal influences in your music. What are your musical inspirations?
Brian Steele Medina: Our music is definitely an amalgam of all of our musical influences. Everyone puts their own style into the mix. There have been so many amazing bands that have pushed the envelope in modern rock. We're inspired by all of it.
Hardrock Haven: As well as the beautiful melodies, your biography and lyrical content note themes such as the Illuminati and mysticism. Care to tell the story here?
Brian Steele Medina: It breaks down to that we all have the potential for enlightenment, to be awakened. It's up to us as individuals to seek the light, the illumination, which lives within us all. That message is what's reflected in our music. When the album comes out this summer, you'll see that we've used symbols to represent songs, and their meanings. There is often a simple concept which can be easily understood on the surface, but when you dig deeper, you will find a vastly more complex idea.
Hardrock Haven: The entire band meshes so nicely together. What is the most important thing about being in a band?
Brian Steele Medina: It's just like a family. Communication is key, and always having a good time with what we do. We get to travel and share our art with people. It's a beautiful thing.
Hardrock Haven: How did all of you meet?
Brian Steele Medina: Osmosis, Law of Attraction, whatever you want to call it. It all just came together like a perfect storm. We come from all over the country, the world actually… We all met in Los Angeles and have all lived together since the bands inception. 

Hardrock Haven: What has been your favorite song to play live?
Brian Steele Medina: That depends on what particular mood I happen to be in. Sometimes I really feel the power of a song like "Take This." Other days I can't wait to beat my drums up to "Pleasure & Pain."
Hardrock Haven: Any cool tour stories?
Brian Steele Medina: I'd say, the coolest part about being on tour has been all of the energy and enthusiasm we have gotten from the crowds and all the new converts. We've been so well received, and are extremely grateful.
Hardrock Haven: What has it been like on Warner Bros. Records?
Brian Steele Medina: Warner Brothers has been a great home for us. It's like a family.
Hardrock Haven: What's next for the Gemini Syndrome?
Brian Steele Medina: We're about to head out on the road with Drowning Pool, and then we'll be going out with Five Finger Death Punch. We'll be releasing our Debut Album soon, and are very excited to share the next chapter with you all.
Official website: http://www.geminisyndrome.com/
Official Facebook: https://www.facebook.com/geminisyndrome