Chasing Violets | Jade Hearts
by Joe Mis
– Senior Columnist —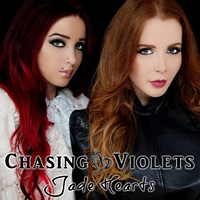 Jade Hearts is the solid second release from France's Chasing Violets – and it is a dynamic and upbeat radio-friendly album. Fronted by sisters Sarah & Mélissa Fontaine – and ably supported by AOR's Frédéric Slama – Chasing Violets has again brought together a number of well-known names from the melodic rock / metal world to produce a CD with infectious riffs, sing-along choruses, and toe-tapping rhythm lines. While still upbeat and positive, Jade Hearts displays a bit more grit and has a slightly harder edge than the band's 2012 debut, Outside Heaven.
The list of performers is impressive. Besides the songwriting and production skills of Slama, Jade Hearts boasts contributions from Tommy Denander (House of Lords, Alice Cooper, Paul Stanley), Paul Sabu (Kidd Glove, Sabu), Göran Edman (Yngwie Malmsteen, John Norum), Mikael Erlandsson (Last Autumn's Dream), Christian Tolle (AOR, Bangalore Choir), Eric Ragno, Alessandro Del Vecchio and many others. The production values are high, allowing all of these diverse performers to sound their best.
The Fontaine sisters are solid rock singers with strong and expressive voices. While not generating huge amounts of power or covering massive ranges, they both have clear voices that carry a good deal of emotion, and as expected they work very well together. The tracks are well-structured and quite catchy for the most part.
"The Main Attraction" starts off with an 80s-style keyboard opening and settles into a very nice pop-rock groove with interesting layered vocals. Göran Edman lends his recognizable tone to the harder edged "Web Of Lies," and Tommy Denander's guitars make this one of the strongest tracks on the release. "A Shot In The Dark" seems to have a bit of a Deep Purple feel to it, but the vocals seem a bit unbalanced and uneven on this track, as if the Fontaines were trying to match the natural rasp of Bob Harris. "Silent Victory" is a slick modern rock masterpiece with a driving bass line and great duet vocals, while "Deception In Heaven" is a simpler, slower track that builds into a sweeping epic thanks to tidy guitars contributed by a number of musicians. Paul Sabu does it all as he backs up the Fontaines on the catchy commercial rocker "Jade Hearts."
"Secrets In The Shadows" is a poppy, radio ready track with a rolling rhythm line, but an overly long outro guitar solo (a spectacular one, but a bit much for such a commercial sounding track). "Hollow Triumph" is another solid rocker with strong harmony vocals throughout. Big bass drives the melancholy "Exile In Sadness," while "The Scarlet Nymph" floats along on a soft and gentle vocal line. "Halo Of Light" is a well-done harder edged rocker with a strong rhythm line in old Journey style, perhaps influenced by Neal Schon's guitars. The album wraps with the hard rocker "I Owe It to Myself," a track with a cool, old-school feel to it, and a hooky sing-along chorus.
One of the few criticisms of Jade Hearts is simply that at times it seems to be almost "AOR-by-number," giving the album a somewhat formulaic feel. A bit more diversity in tone and tempo would go a long way in displaying the true talents of the Fontaine sisters. A simple acoustic ballad (surprisingly, there are no acoustic tracks on the album) or a gritty, dark hard rocker would make the album more interesting.
If you are looking for something on the lighter side, you can't go wrong with Jade Hearts. Fans of melodic rock with a modern touch will enjoy the sounds of Chasing Violets, and anyone who enjoys radio or arena rock will appreciate the many influences of some of the greats of the genre – Journey, Survivor, Heart, etc. Sexy and sensuous, upbeat and accessible, the melodic music of Chasing Violets has broad appeal, and rightly so. While not a perfect album, Jade Hearts is very good, and highly recommended.
Genre: Modern Melodic Rock
Band:
Sarah Fontaine (lead / backing vocals)
Mélissa Fontaine (lead / backing vocals)
Guests: Rick Riso (vocals on 1, 7, 9, 11); Göran Edman (vocals on 2); Bob Harris (vocals on 3); Mikael Erlandsson (vocals on 8); Tommy Denander (all instruments on 1, 2, 4, 7, 8, 9, 11); Paul Sabu (all instruments & backing vocals on 6); Frédéric Slama (guitars on 2); Carmine Martone (guitars on 3);
Christian Tolle (guitars on 5, 10 , 12 & bass on 12); David Mark Pearce (guitars on 5, 10); Linkan Andersson (guitars on 5, 10); Stefano Lionetti (guitars on 5); Mario Percudani (guitars on 5); Anna Portalupi (bass on 3); Ken Sandin (bass on 5); Sacha Spiegel (drums on 5, 10, 12); Pat Thern (drums on 2, 7, 8); Alessandro Del Vecchio (keyboards on 3, 12, drums on 3, backing vocals on 12); Eric Ragno (keyboards on 5, 10); Colin Rodgers (keyboards on 7)
Track Listing:
1. The Main Attraction
2. Web Of Lies
3. A Shot In The Dark
4. Silent Victory
5. Deception In Heaven
6. Jade Hearts
7. Secrets In The Shadows
8. Hollow Triumph
9. Exile In Sadness
10. The Scarlet Nymph
11. Halo Of Light
12. I Owe It to Myself
Label: AOR Records
Website: http://www.chasingviolets.fr/
Hardrock Haven rating: 8 / 10