Farewell 2 Fear | New Blood
by Mark Allen
– Senior Columnist —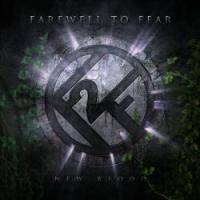 If you long ago bid a less-than-fond farewell to radio-ready modern hard rock, then Farewell 2 Fear (F2F) is not the band to bring you back into the fold. Because just as McDonald's has never bothered to reinvent the Big Mac because it tastes good just the way it is, F2F feel no need to diverge from what works within the modern rock genre. But just like the Big Mac's classic combination of two all-beef patties, special sauce, lettuce, cheese, pickles, onions on a sesame seed bun results in food that tastes good, F2F's sturdy combination of crunchy guitars, slick production, catchy hooks, and attention-grabbing choruses result in music that sounds good.
Of course, sounding good and playing good doesn't automatically result in good things happening for a band. The market is glutted with groups that all sound a lot like F2F, which puts them at risk for being slapped with the generic tag. Do they deserve it? Honestly, much like discussing Charlie Sheen's sanity, you could argue either way. But if you chose to argue in favor of F2F being something other than another soulless corporate rock clone, you could readily point to their spirited energy and strutting confidence. Sure, F2F feature snappy hooks and big choruses, but rather than sounding crassly commercial, they sound organic and natural…even when they sound commercial.
Make no mistake, this is mainstream rock, but it's magnum-caliber mainstream rock. It's the kind of stuff that gets played on Sirius' Octane channel right next to Pop Evil, Nickelback, and Skillet, and if you like any of those bands, you're going to like F2F. The band has a fan mailing list of over 200,000 and you just don't get those kinds of numbers without doing something right.
One of the things the band did right was record and release a hard rock version of Rihanna's hit tune "Diamonds." The song struck a chord with modern rock aficionados and deservedly so; the song in its original form is infused with pop catchiness and F2F managed to retain that infectiousness while cranking up the guitars and transforming sugar-coated pop into amp-blowing rock. It grabbed ears like a miscast fishhook and made folks start paying attention to what F2F was doing.
While naturally some songs are better than others, nothing here will make you poke the Skip button. "Fire" is guaranteed to give your ears a sugar-buzz, it's so damn catchy, and the chorus sticks to your brain like melted taffy. "Out of Reach" brings some guitar sizzle to the proceedings as well as an extra dose of attitude from singer Mike Craig. "New Blood" features the kind of irresistible stop-start rhythm upon which so many hit singles are built. Gang backup vocals lend the track power, the hooks fly faster than insults at a celebrity roast, and the chorus really nails that sweet spot.
If you're a fan of modern hard rock, say bye-bye to the other albums currently in rotation on your stereo or iPod, because F2F is going to be hogging all your listening time for the foreseeable future. Granted, the band's sound is hardly innovative, but it's high-quality material within the confines of the modern rock format. Farewell 2 Fear may not inject any new blood into a bloated genre, but they're good enough to get your blood pumping, and that's good enough.
Genre: Modern Hard Rock
Band:
Mike Craig (lead vocals)
Bob Bearden (lead guitar, vocals)
Tony Lucero (guitar, keys, vocals)
Jeremy Sevens (bass)
Jimmy Adams (drums)
Track Listing
1. Start It Over
2. Running Out of Time
3. Fire
4. Finding My Own Way
5. Gone
6. Out of Reach
7. New Day
8. Victory
9. Won't Slow Down
10. The Suffering
11. New Blood
12. Diamonds
13. Unopened Door
Label: Silent Majority Group
Webpage: www.facebook.com/farewell2fear
Hardrock Haven rating: 8/10