From Far Away | Recover|Repeat
by Jenn Carbaugh
– Columnist —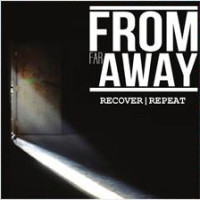 The metal scene is intense lately with newcomers who pave the way. Bands like Halestorm, Clutch, Lamb of God, and Alabama Thunderpussy all come from areas like Pennsylvania, Maryland, or Virginia. These bands already have a name made for themselves. The local bands need a chance to be heard as well, and a group of guys called From Far Away is hoping for that chance over on the East Coast.
Hailing from Hagerstown, Md., From Far Away was formed in July of 2012. They quickly hit the metal scene with their debut single "Decisions." This five piece has only been a band for about a year, but they have an E.P. titled Recover|Repeat that they believe is ready for the masses on iTunes and YouTube.
The compositions of the songs are brutal but still manage to have a sound to them that is pleasantly surprising. There is diversity from this hardcore band that doesn't leave the ears disappointed. The album beings with a vigorous track called "Beginnings," which truly gives the word beginnings a new meaning. The mix of the guttural vocals paired with the satisfactory singing really makes the song, as well as others reach the potential it encompasses.
"Confessions" is another song that is stunning. It is chest-pounding, head-banging and intense. It is a song that has every element that needs to make this band successful. There are great riffs and breakdowns. The drumming is perhaps the most phenomenal part of this track as well as the rest of the album. There isn't a song that seems to fall short on this album.
From Far Away has definitely been working hard to sound as if they should already be famous. They are a band with a unique sound that combines melodic sounds with harsh vocals. One of the most interesting and compelling elements is that they manage to incorporate pop inspired choruses that blend great with all of the different elements.
There have been amazing local bands in the Pennsylvania and tri-state area that keep the standards high, but From Far Away seems to be holding their own quite well. They are definitely a recommended band that should be taking the music world by storm shortly.
Genre: Hardcore, Melodic Hardcore
Band:
Josh Peters – vocals
Jason Williams – bass/vocals
Matt Hoffmaster – guitar
Steven Hyslop – guitar
Zack Boward – drums
Track Listing:
01. Beginnings
02. Outsiders
03. Confessions
04. Sidewalks
05. Memoirs
Label: At Your Command Records
Website: https://www.facebook.com/FromFarAwayOfficial?fref=ts
Hardrock Haven Rating: 7/10