by Derric Miller
– Managing Editor —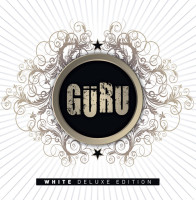 Spain's Guru is the latest release from MelodicRock Records, first known as a website keeping the spirit of melodic Hard Rock and Heavy Metal alive, and now injecting its own passion for music to the masses via new artists. It's hard to argue with the logic here — if it's released on MelodicRock Records, you can expect … well … Melodic Rock!
Although touted as a band along the lines of Extreme, Toto and Journey, you can go back just a few years to be reminded of an incredible and underrated band, Brazil's Pleasure Maker. What Guru does, much like Pleasure Maker, is make a synthesis of the melodic tendencies of Bon Jovi and yet feature blazing guitar leads and solos like Van Halen or Dokken. Listen to the solo that fades out at the end of their hit "Straight to Your Heart" and you'll hear it.
The title track "White" starts the release, a thumping, gritty composition with intricate riffing and a heavy bottom end. Lead singer Dagarod sings like a manly man yet with melody, akin to Ronnie Atkins of Pretty Maids fame. (Dagarod never gets as guttural as Atkins can, though.) The leads in the background as the song ends are intense, raging yet bubbly like a Malmsteen solo. It's just a damn cool lead in to Guru's sound.
Their poppy side jumps at you next on the Winger-type mid-tempo song "Straight To Your Heart." Maybe it'll remind you a bit of Whitesnake as well, since both bands featured stellar guitar … gurus. You can hear a hint of an accent on the slower songs and for the ladies … they are going to be big fans of this track.
"If You Go" is a ballad, a power ballad in the truest sense. With just airy keys and a breathy Dagarod singing at the onset, when the acoustic guitar kicks in you'll start thinking about Warrant or Giant. These kind of songs work well in an arena, where beautiful women finally find a use for fat guys—sitting on their shoulders while they wave their cell phones or if they are luddites, their lighters. It's all kinds of awesome.
In case you thought Guru was all about just pop, though, check out "Angry Song." Since comparisons are going to happen anyway, you'll hear the soul of someone like Jeff Scott Soto in this composition. It's funky, danceable, with even the sound of horns (could be effects) and it's massively different than what you've heard before. That's a great thing; hearing the same song over and over means you won't listen again.
Still, what else do they have to prove besides understanding if they take themselves too seriously or have a sense of humor? That's answered on "My Rocker Ass." While not Steel Panther-funny, it's lighthearted, still poppy, and if you ain't singing along to "It's against my rocker ass!" then your primary language is sign language.
Guru doesn't stray from the quality on the last songs. "The Voice Inside" is another touching ballad and "The Voice Inside" is a rocker.
Guru's White is a somewhat surprising release because when you compare a band to Extreme, Toto, Journey, Pleasure Maker, Van Halen, Dokken, Pretty Maids, Yngwie Malmsteen, Winger, Warrant, Giant and Jeff Scott Soto, the outcome seems to be "I've heard this before." But you haven't, unless you have this release already. The comparisons work because if Guru has elements of all these incredible bands in their sound, who the hell wouldn't want to hear it?
Genre: Melodic Hard Rock
Band:
David Palau—Guitar and vocals
Jordi Vericat—Bass
Dagarod—Vocals
Toni Mateos—Drums
Track Listing:
White
Straight To Your Heart
It's All Different Now
If You Go
In My Life
Break The Spell
Won't B 2Gether
Angry Song
My Rocker Ass
Ray Of Light
The Voice Inside
I Don't Give A Damn
Deluxe Edition Bonus Tracks:
The Voice Inside
If I Go
Daddy, Brother, Lover, Little Boy
Addicted To That Rush
Label: MelodicRock Records
Online: http://www.melodicrock.com/showcase/guru-white.html
Hardrock Haven rating: 8.4/10