by Justin Gaines
– Senior Columnist/News Editor —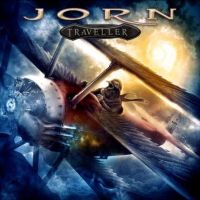 It's only been a year since Norwegian super-vocalist Jorn Lande's last studio album (2012's Bring Heavy Rock to the Land), but we've already seen a symphonic re-recordings album (Symphonic) and now a brand new studio offering. The album, Jorn's tenth solo album (assuming the Dio covers album counts), is called Traveller, and it's the first to feature Wig Wam's Trond Holter on lead guitar.
Bring Heavy Rock to the Land was, to be frank, uninspired, so it's something of a surprise to find Jorn back for another round this soon. Perhaps his new collaboration with Holter has recharged his creative batteries. Traveller does sound a bit more exciting than Bring Heavy Rock to the Land. To be sure, it's still your basic Jorn album, sounding much like something the late Ronnie James Dio might have written for David Coverdale to sing. Still, Jorn's incredible vocals make the whole thing completely enjoyable, even if it's not remotely original.
Traveller has a very satisfying crunch to it. It's not so heavy the melodies are overwhelmed, but it has some metal power the way your average Pretty Maids or Masterplan album does. You hear it especially on the one-two punch of "Legend Man" and "Carry the Black," but songs like "Overload" and the title track also get the blood pumping. The only real dud here is the closing song "The Man Who Was King," which is a heartfelt, but completely cheesy ode to Jorn's hero Ronnie James Dio. His heart's in the right place, but he already had "A Song For Ronnie James" on the Dio album.
There are no real surprises here. If you're a Jorn fan, you pretty much know what to expect from Traveller. If you were less than thrilled with Bring Heavy Rock to the Land, Traveller will probably restore your faith in Jorn at least a little bit. It's not the powerhouse album Spirit Black or Lonely Are the Brave were, but it's still a rock solid melodic metal album from one of the best voices in the genre.
Genre: Heavy Metal, Melodic Metal
Band:
Jorn Lande (v)
Willy Bendiksen (d)
Bernt Jansen (b)
Trond Holter (g)
Jimmy Iversen (g)
Track Listing:
1. Overload
2. Cancer Demon
3. Traveller
4. Window Maker
5. Make Your Engine Scream
6. Legend Man
7. Carry the Black
8. Rev On
9. Monsoon
10. The Man Who Was King
Label: Frontiers
Website: www.jornlande.com
Hardrock Haven rating: 8/10