Judicator | Sleepy Plessow
by Jenn Carbaugh
– Columnist —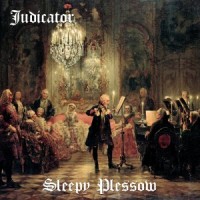 Judicator has released their second full album titled Sleepy Plessow. John Yelland and Tony Cordisco are surprisingly the only ones to make up this band, but there are nine guest musicians on this album.
This album is supposed to tell the story of Prussia. It leads up to the focus of Freidrich der Grosse (Freidrich the Great). The variety of musicians illustrates a multitude of possibilities in terms of sound for this U.S. power metal band. However, the sound of the two actual members seems to fall short. Instead of singing, there is a combination of singing and a talk-like set of vocals that makes the album lack concrete power. "The Elector" is song where this odd collaboration can be heard.
There are many singers with complex vocal arrangements, but some of the songs do not serve power metal justice. The guitar work is something commendable on this album, because it is intricate and illustrates plenty of speed metal riffs. There are songs with great power and intensity, but it can be a hit or miss.
"Memory of Shame" is not a miss. There are elaborate guitar solos, guttural vocals, and heavy and high-speed drum work. The guest musicians certainly help the sound of this album and add a unique twist. "The Philosopher King" is a song that has somewhat of a anthem or chanting sound to it.
There are some pretty decent tracks on this album like "Thirty Years of Terror," which has an attractive riff to draw in listeners. Then, there are songs like "Sea of Fire" that don't seem to fit with the album. The vocals are seemingly what may be one of the biggest conflicts within the album.
Overall, this duo has developed a sound that is unique to them. Having a vast number of guest musicians helps and hurts the album, but there are guests like Elizabeth Hall that give the songs dimension. The unique quality of a few of the songs allows this to be a recommended album.
Genre: Power Metal
Band:
John Yelland – vocals
Anthony "Tony" Cordisco – vocals, guitars, bass, drum programming
Track Listing:
01. Sleepy Plessow
02. The Elector
03. Thirty Years of Terror
04. Memory of Shame
05. Release Me
06. Sapphire
07. Gedenkstatte
08. The Philosopher King
09. Blut Vom Himmel
10. Sea of Fire
11. When Crowns are Shattered
12. Sans Souci
Label: Masters of Metal
Website: https://www.facebook.com/judicator666
Hardrock Haven Rating: 5/10