Kaledon | Altor: The King's Blacksmith
by Jenn Carbaugh
– Columnist —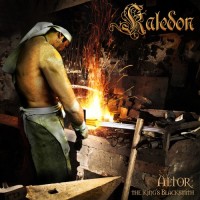 Kaledon, an Italian symphonic power metal ensemble, has released their seventh album called Altor: The King's Blacksmith. The main praiseworthy aspect of this album is the band's ability to create a saga and provide listeners with storytelling. The actual musical aspect of the band is ultimately cliché and overdone.
This album is somewhat of a pre-pubescent boy's dream. There are damsels in distress, sword fights, and high-paced video game sounds like mystical keyboard progressions. It is not a bad album, but it nothing new or spectacular. This band obviously looks up to Rhapsody of Fire, but they can't compete with their idols with this album.
Euro-power metal is known for profound keyboard abilities and amazing guitar solos. Stories of dragons and medieval legends may be included, but that is the only element this album carries in terms of what is expected. Musically, there is a mundane and unimpressive sound throughout the entirety of the album.
Songs such as "Lilibeth" seem to be an attempt at providing variety with a storytelling cohesive capacity, but it fails as a possibility at becoming a timeless ballad. Even with humdrum songs, a powerful singer and a tedious band can usually pull the album through. That is not the case. Marco Palazzi's voice and the band do not leave much of an impression except for the album being generic.
The album does have songs that may be worthy of listeners. "A New Beginning" has an anthem-like chorus that proves to be catchy. "Screams in the Wind" is also a somewhat appealing song. It has a balance of quick paced emotion that can be felt in both the vocals and the guitar and keyboard.
Overall, this album is not recommended unless you are into a cheesy, overdone genre. If this band was able to utilize an amazing vocalist or write epic narrations like those before them, they may have a better chance.
Genre: Power Metal
Band:
Alex Mele: guitar
Marco Palazzi – vocals
Tommy Nemesio – guitar
Daniele Fuligni – keyboard
Paolo Lezziroli – bass
Track Listing:
01. Innocence
02. Childhood
03. Between the Hammer and the Anvil
04. My Personal Hero
05. Lilibeth
06. A New Beginning
07. Kephren
08. Screams in the Wind
09. A Dark Prison
Label: Scarlet Records
Website: http://www.kaledon.com/
Hardrock Haven Rating: 4/10