by Alex Barbieri
– Senior Columnist —
MAY 31, 2013 AT THE CAPITOL THEATRE, PORT CHESTER, NY —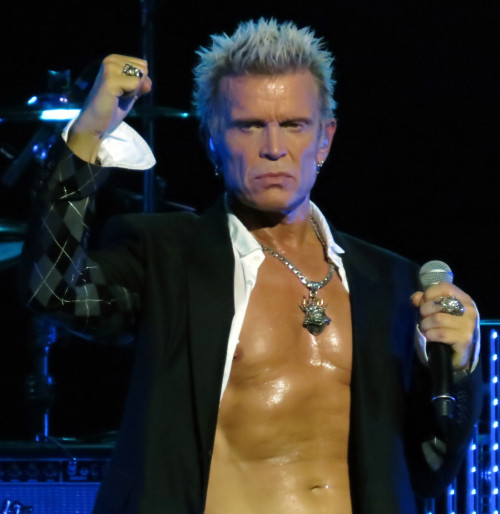 It was still 90 degrees outside as New York area rock fans hung out and queued up outside of the Capitol Theatre in Port Chester, NY. The marquee above the doors read BILLY IDOL … SOLD OUT.
Inside the gorgeously refurbished theater, a combination of old world charm and cutting edge lights and sound, excitement built as fans young and older anxiously awaited their idol's arrival.
Fashionably late (of course), Idol and his band of brothers took the stage with "Ready Steady Go," a Generation X ass kicker. Next up was "Dancing with Myself." As soon as Stevens began playing that identifiable six note guitar intro, the place came alive like an '80s-era warehouse party. The crowd chanted loudly along with Idol on "And I sweat, and I sweat." Surely, we would have been slam dancing if not for our age-related aches and pains.
This writer admits to a bit of a man crush on Mr. Stevens. And why not? He's one of the best rock guitarists ever, and looked cool as hell with his spiked hair, leopard shirt and matching boots. Musically, watching and listening to Stevens play is pure hard rock bliss. When it comes to guitar tone, note selection, and stage presence, Stevens can teach a master class. Smiling easily throughout the night, he also seems like a genuinely nice guy.
Billy idol—literally a rock idol at this point—has aged a bit in the face, but at 57-years-old, the man is still in awesome shape. Vocally, he was all there, and there seemed to be a real positive energy coming from both Idol and Stevens to the audience, and between each other. Idol made several shirt and jacket changes throughout the set, and the women in attendance particularly appreciated his little tease before taking his shirt off altogether.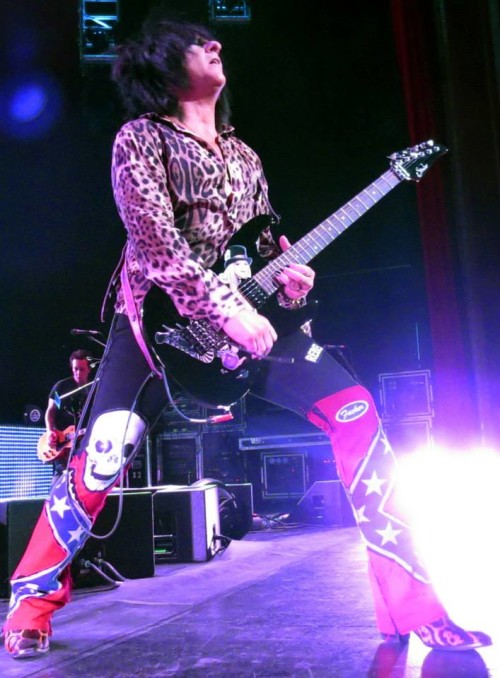 Speaking of teasers, another musical highlight was Stevens intro riff to "Flesh For Fantasy." He played da-da-da-da – da da da da, then stopped, smiled and put his hand to his ear inviting a cheer. The crowd roared.
Idol played two new songs: "Love and Glory" and "Ghost in My Guitar," which will be on his new album—his first in eight years. Idol is also working on his autobiography, which should coincide with the release of the new CD in 2014.
The hits kept coming: The hypnotic "Eyes Without a Face," massive sing-along "LA Woman," fan favorite "Blue Highway," and triumphant "Rebel Yell."
The band then left the stage and returned for an encore. Idol introduced his band—in addition to Stevens on lead guitar, there's Stephen McGrath on bass guitar and backing vocals, Billy Morrison on rhythm guitar and backing vocals, Erik Eldenius on drums/percussion, and Derek Sherinian, also of Black Country Communion, on keyboards. Not surprisingly, Sherinian nailed the keyboard parts integral to Idol's songs.
After the frenzied double encore of "White Wedding" and "Mony Mony," with house lights up and fans on their feet, Idol looked out to the audience, gave one last sneer, raised his fist up, and said in British accent, " … and I'm Billy Fuckin' Idol."
Billy Idol. Still bad ass.
Set list:
1. Ready Steady Go
2. Dancing with Myself
3. Pumping On Steel
4. Flesh For Fantasy
5. Postcards from the Past
6. Love and Glory
7. (Do Not) Stand in the Shadows
8. Ghost in My Guitar
9. Sweet 16
10. Eyes Without a Face
11. LA Woman
12. Steve Stevens guitar solo
13. King Rocker
14. Love Like Fire
15. Blue Highway
16. Rebel Yell
Encore:
17. White Wedding
18. Mony Mony
Billy Idol official website: http://billyidol.net/
Billy Idol Facebook: https://www.facebook.com/BillyIdol
Special thanks to Evan Bright for going above and beyond for a photo pass.
Billy Idol Concert Photo Gallery
[PHOTO GALLERY—PHOTOS BY JENN MANN]