by Anabel Dflux
– Photojournalist —
June 8, 2013 at the Roxy Theatre in Hollywood, CA. —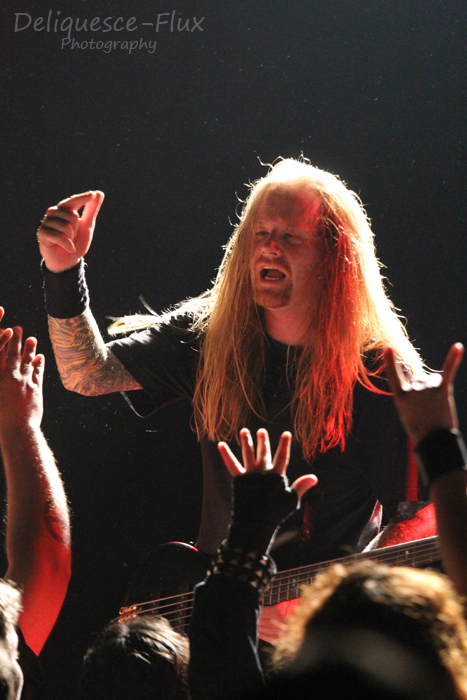 Fear Factory is back — and they are wilder than ever before.
Having been around since 1989, Fear Factory is a monumental force in the metal music industry. With their industrial theme and intense vocals, the band has captivated the world for years. Although there were multiple lineup changes and quite a few breaks in between the long career, the current bandmates work brilliantly together and really harmonize on stage.
June 8 saw the return of the metal quartet at the infamous Roxy Theatre on Sunset Blvd, packing the venue to the brim with fans. Having waited since 7 p.m. and stood through four opening bands, the crowd was getting restless as the clock hit 11 p.m., anticipating the industrial excitement that is Fear Factory.
The moment the curtain dropped and Burton, the vocalist, made his way onto the stage, the audience went nuts! Mosh pits, jumping, horns up in the air- the energy was outstanding. Opening with "Shock," Burton really got close to the screaming fans and engaged the venue immensely. Dino on guitar and Matt on bass ran from one end of the stage to the other, hair flipping and rocking out to Mike's drum beats.
The show closed with "Replica," a grand finale that set the night on edge.
Band Members:
Burton C. Bell – Lead vocals
Dino Cazares – Guitar/Backing vocals
Matt DeVries – Bass
Mike Heller – Drums
Set list:
1. Shock
2. Edgecrusher
3. What Will Become?
4. Acres of Skin
5. Powershifter
6. Fear Campaign
7. Smasher/Devourer
8. The Industrialist
9. Recharger
10. Martyr
11. Leechmaster
12. Scapegoat
13. Demanufacture
14. Self Bias Resistor
15. Zero Signal
16. Replica
Fear Factory Photo Gallery