by Deb Rao
– Senior Columnist —
May 25, 2013 at Fremont Street Experience in Las Vegas, NV.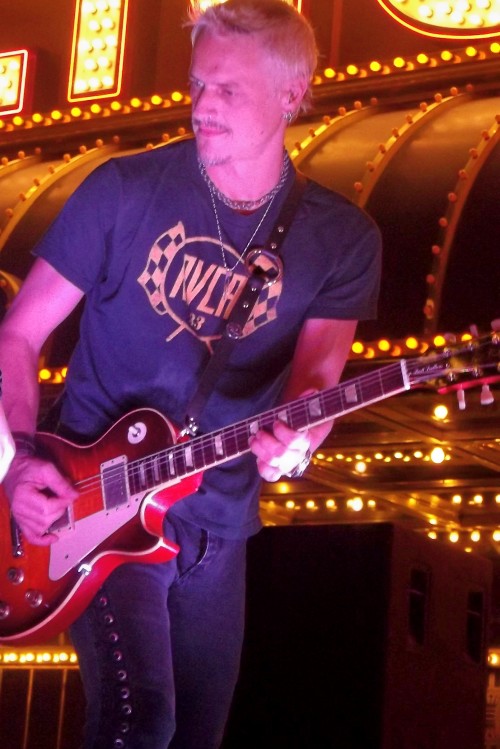 What better way to kick off Memorial Day weekend than in Vegas with the free concert series that kicked off at Fremont Street Experience? The concert on Memorial Day weekend featured a special performance by Fuel and Lit. 10,000 Fulies descended under the canopy for this special event.
Lit hit the stage at 9 p.m. that could only by described as pulverizing. The energy from the band transcended to the audience and was through the roof. Highlights of the set included "The Broken", "Lipstick and Bruises", and their hit "My Own Worst Enemy." Lit has a garage punk rock sound that was fast and furious.
Fuel has an alternative rock sound that speaks volumes. Singer Brett Scallions has a special flare for combining melodic vocals to hard-edged razor sharp riffs that are very compelling. Fuel hit the stage opening with "Last Time." Leaping into "Empty Spaces", Fuel kicked into high gear. Next up Brett slowed down the pace a minute for the ballad "Bad Day." It was amazing to hear 10,000 voices in unison as he sung this hit. Fuel has a unique flare for rocking hard then drawing you in with a ballad that is very multifaceted.
Brett Scallions also debut a new song that he wrote for his two boys entitled, "I Can See The Sun." In between songs Brett told stories like why he was performing barefoot tonight. As he told the audience he found himself at the airport with no shoes, as he packed only flip-flops. Too funny.
The hits kept on coming with "Shimmer" and "Bittersweet." In the past I have seen Fuel many times but tonight's performance really concentrated on guitars. Brett and guitarist Andy Andersson jammed many times during the set including on the hard rocking "Jesus Or A Gun." Fuel ended the set with their mega hit "Hemorrhage (In My Hands)."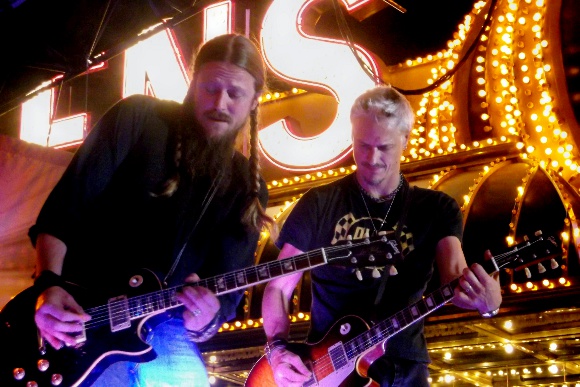 Fremont Street Experience And The D has lined up an exciting concert series that will feature Hinder, Everclear, and Puddle Of Mudd to name a few. Be sure to stay tuned to Hardrock Haven for all the special Las Vegas reviews. Special Thanks to Darren from The D for making this review possible. Be sure to arrive at the concerts early and enjoy a great dinner at The D.
Fuel Set List:
Last Time
Empty Spaces
Prove
Falls On Me
Bad Day
I Can See The Sun
Shimmer
Bittersweet
Sunburn
Jesus Or A Gun
Innocent
Hemorrhage (In My Hands)
Online: www.facebook.com/fuelofficial