by Zane Cash
– Photojournalist —

Rocklahoma 2013 promised to be the biggest Memorial Day party around and that was an understatement! The three-day festival kicked off on Friday, May 24 in beautiful Pryor, Okla. with near perfect weather and people from all over the country who were ready and waiting to rock-n-roll. From the moment you arrive at your campsite and your feet hit the dirt, you realize that for the next three days, you will be having the time of your life and it almost feels like you have entered a completely different world.
This was the biggest year ever for Rocklahoma, with about 90 percent of ticket holders camping on the grounds, there was a party to be found from sun up to sundown all three days of the festival. There are people from all walks of life attending this festival simply because the mix of the lineup makes it a very unique experience and with over 70 acts appearing on multiple stages, there is something for everyone to enjoy. This was also the first year that Rocklahoma completely sold out their VIP section, along with the Groupie, Roadie & Rockstar packages which gives festival goers upgraded parking, reserved upfront seating, and access to the VIP tent that includes all you can drink Bud Light, soft-drinks, coffee, iced-tea, water and an amazing assortment of food, served buffet style.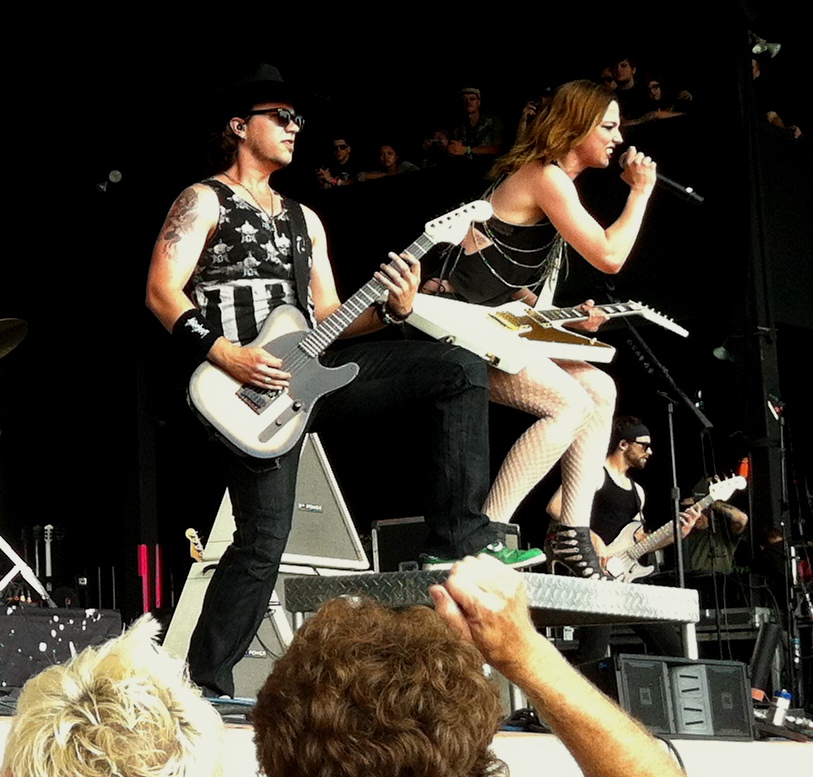 From the moment the gates open at Rocklahoma, There is great live music on three stages inside the festival grounds. The Retrospect stage features a lot of bands that are on the rise and making a name for themselves in the music industry. Bands like London's Dungeon, The Last Vegas, Black Tora, Firstryke and more brought everything they had to the stage and put on a very up close and personal live performance.
Across the pasture (literally), the Hardrock Stage or second stage had so many talented big named bands, some of which probably felt like they deserved to be on the main stage with longer set times but still gave it everything within them to impress the crowd and make sure they got their money's worth.
The main stage is where the biggest parties of the weekend took place with headlining performances from Bush, Guns N' Roses, Bullet For My Valentine, Alice In Chains, Cheap Trick, Korn and other bands over three days.
Day one of Rocklahoma was an extremely busy day, trying to run around and check out as many bands as possible. Hardrock Haven started the day at the Retrospect Stage listening to the sounds of London's Dungeon who had a great crowd gathered at the tent awaiting their performance. Next, it was on to the main stage for All That Remains, who released their sixth studio album late last year entitled A War You Cannot Win. Even though there were some sound issues on the main stage, the band still gave it their all and played songs from that album as well as crowd favorites like "This Calling" & "Two Weeks".
Next up on the main stage were the '80s rockstars of the band Ratt who had rejoined forces with their original bassist Juan Croucier and came prepared to play their crowd favorite like "Round & Round" as well as many others.
By this time, the crowd had really filled up the festival grounds and were ready and waiting to see Papa Roach who are on the road in support of their latest album, The Connection. As he is known to do, Jacoby Shaddix decided to get up close and personal with the fans as he took the microphone into the crowd so he could be closer to the fans. They put on a great live show and played hits like "Burn", "Getting Away With Murder", "Forever", "Scars" and "Last Resort" to name a few.
The next band of the day was Clutch from Germantown, Md. who are on the road in support of their latest release entitled Earth Rocker. These guys have been playing shows as a band since 1990 and they put on one of the best shows of the day. Playing the self titled track "Earth Rocker" from the new album, as well as other favorites like "Electric Worry", they had the crowds attention from start to finish.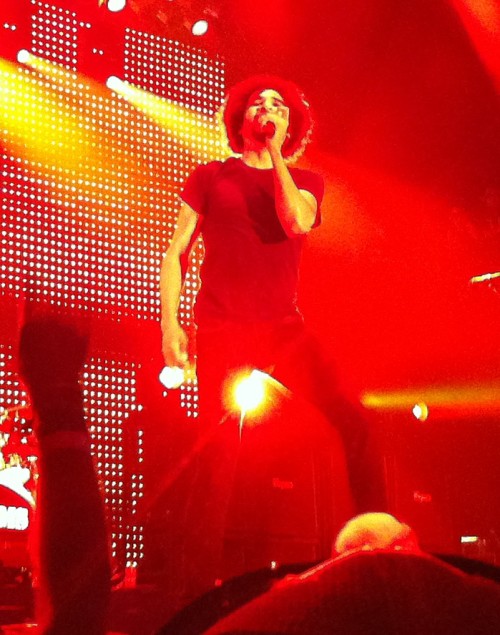 Finally, the sun had went down as we all had been hoping it would and it was time for a guitar auction to help with victims of the Moore, Okla. tornado. A guitar that was signed by Gavin Rossdale of Bush was auctioned for $3,000 just before the British rock band took the stage. The energy from the crowd was insane as Gavin Rossdale appeared into the spotlight. The entire band was filled with energy as if the crowd was giving it out and they were taking it in. Opening the show with the crowd favorite "Machinehead" really increased the party mood and feel. They then went on to play favorites like "The Sound Of Winter", Everything Zen", "Greedy Fly", "Little Things" as well as a completely brilliant cover of "Come Together" by The Beatles where Gavin decided to leave the stage and walk throughout the crowd signing with people and giving hugs and high fives. He came back on stage with almost no shirt and then decided just to remove it altogether. They put on a very entertaining live show and also played the crowd favorite "Glycerine" towards the end of the set.
Now it was finally the moment that we had all been waiting for. After standing around waiting for a little over half an hour, Axl Rose and Guns N' Roses finally took the stage and the crowd was glued to their performance, hoping to hear their favorite GNR song live or to have one special moment with one of the band members. The 30-minute wait paid off and then some because GNR played a very long set and the crowd ended up getting to hear almost 30 songs live. Including hits like "Welcome To The Jungle", "It's So Easy", "Mr. Brownstone", "Live & Let Die" (Wings cover), "Sweet Child O' Mine", "November Rain", "Knockin' On Heaven's Door" (Bob Dylan cover dedicated to the state of Oklahoma), "Patience", "Paradise City" and more. There was also an awesome piano solo by Dizzy Reed as well as covers of "Another Brick in the Wall Part 2" (Pink Floyd cover with Alx on piano) and "The Seeker" (The Who cover). It was a perfect way to end a very epic day of live music in Pryor, Okla.!
 
Day two at Rocklahoma was another very busy day filled with so much great live music that it would be impossible to cover all the bands but we did our very best to cover as many as possible. The second day for Hardrock Haven started at the main stage watching one of the most talented bands in the music business today, Halestorm. Halestorm took the stage with so much confidence that you knew they were going to put on a killer show. Lzzy Hale looked extremely beautiful as always and belted out crowd favorites like "Freak Like Me", "Love Bites (So Do I)", "I Get Off", "I Miss the Misery" and the band even played a perfect cover of "Straight Through the Heart" in memory of the late Ronnie James Dio. (RIP)
Next up on the main stage was Christian rock band Skillet from Memphis, Tenn. who's new album will be out later this year. They are very passionate about what they believe and they don't try and force their beliefs on you during their show but they do take the time to let you know that they love their God and that they do believe. The crowd cheered very loud when John Cooper (lead singer of Skillet) informed them that the band Skillet is not ashamed of the gospel of Christ and really got into some of the crowd favorites like "Hero", "Awake & Alive", "Monster" & "The Last Night". Skillet also played a few songs from the new album before finishing their set.

Next, it was time from heavy metal band Bullet For My Valentine from the United Kingdom. With a backdrop of bloody hands from the Temper Temper album, Bullet For My Valentine took the stage with an extreme force. Knowing that they were one of the only HEAVY metal bands of the weekend, you could tell that they really wanted to bring the metal and put on a great show. Playing songs like "Your Betrayal", "Waking The Demon", "Riot" and "Temper Temper" as well as crowd favorites "Scream Aim Fire" and "Tears Don't Fall", the crowd was huge during their entire set.
Finally, it was time for the last band of Saturday night at Rocklahoma and that was the legendary Alice In Chains. They didn't play that long of a set but the songs they did play were extremely powerful and a little bit creepy because the new singer, (William DuVall) sounds a lot like Layne Staley (RIP) when he and Jerry Cantrell harmonize together. They were very interactive with the fans, making eye contact and singing with those who knew the words. The set included songs like "Them Bones", "Check My Brain", "Hollow", "Down In A Hole", "Nutshell", "Would?" and many more. There was also a very beautiful tribute to Layne Staley and they ended the night with crowd favorites "Man In The Box" and "Rooster." Everything about Alice In Chains performance was near perfect and the crowd even got to meet Jerry Cantrell's father who came out and said a few words to the audience!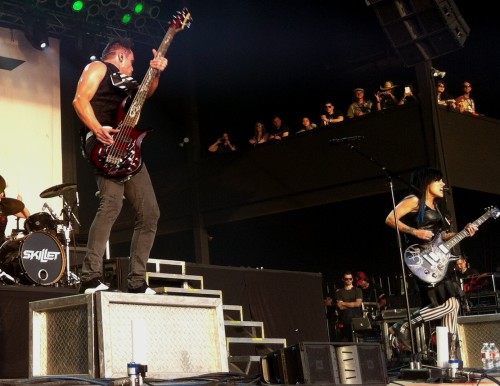 Day Three and the final day of Rocklahoma was mostly spent trying to remind ourselves that our legs did in fact still work and that there were still more great bands to see! The bands we decided to cover on day three started with the extremely funny Steel Panther on the main stage. The entire crowd spent pretty much the whole show laughing and having a great time. If your face didn't hurt from smiling after the Steel Panther set, you probably weren't paying attention and that was probably because you were watching all the females in the crowd who didn't mind showing a little skin. Their set included songs like "Girl From Oklahoma", "Asian Hooker", "Community Property", "17 Girls in a Row" and "Death to all but Metal".
The next band on Sunday at Rocklahoma was Hollywood Undead on the main stage and they knew how to get a crowd excited. Not only did they play a pretty long set but they also brought a child from the audience (who was wearing a Hollywood Undead shirt) up on stage for an entire song. They played songs for the crowd like "Undead", "Tendencies", "Been To Hell", "City" & "Hear Me Now". They were also joined on stage by Fieldy of "Korn" for the song "Everywhere I Go".
The final band of the weekend for Hardrock Haven at Rocklahoma 2013 was the band Korn on the main stage. Many people were very excited to see Korn live simply because they were reunited with their original guitarist, Brian "Head" Welch for one of the first times in over eight years. You could tell by watching Korn on stage at Rocklahoma that they really wanted to be there and that they were having the time of their lives. The sound was extremely tight and Jonathan Davis' vocals have never sounded better. It was an intense live show, filled with energy and emotion.
They started the show off with "Blind" which really got the crowd in the mood to party hard. Then it was "Ball Tongue" / "It Takes Two" / "Lodi Dodi", "Twist", "Chi", "Falling Away From Me", "Narcissistic Cannibal", "Coming Undone" and "Did My Time." Then Jonathan Davis broke out the bagpipes and they played "Shoots & Ladders" / "Somebody Someone." Also on the set list was "Here To Stay", "Helmet In The Bush", "Need To", "Lies" and the encore songs were "Get Up!", "Got The Life" and they ended the night with "Freak On A Leash." It was one epic weekend and definitely a festival that you want to put on your calendar for next year!

Headliners included: Guns N' Roses, Alice In Chains, Korn, Bush, Cheap Trick, Bullet For My Valentine, Papa Roach, Skillet, Hollywood Undead, Steel Panther, Asking Alexandria, Ratt, Halestorm, Device (with David Draiman), All That Remains, Escape the Fate, Dokken, Clutch, Motionless In White, Big Wreck, The Sword, Young Guns, Thousand Foot Krutch, Otherwise, Red Line Chemistry, Mindset Evolution, Heaven's Basement, We As Humans, American Fangs, O'Brother
Retrospect Records Stage featured performances from: The Last Vegas, London, Wildstreet, Mad Max, Bai Bang, Lynam, De La Cruz, The Glitter Boys, Black Tora, Sunset Riot, Firstryke, Ragdoll, Hessler, Switchblade Scarlett, Nasty Habit, Sister's Doll, London's Dungeon, Rhyme, Emerald City, Wicked, Down n Dirty, Station, Ruff Justice, Mystery, and Fist of Rage.