LIVE! | Todd Kerns CD Release Party
by Deb Rao
– Senior Columnist —
June 2, 2013 at Vamp'd in Las Vegas, NV.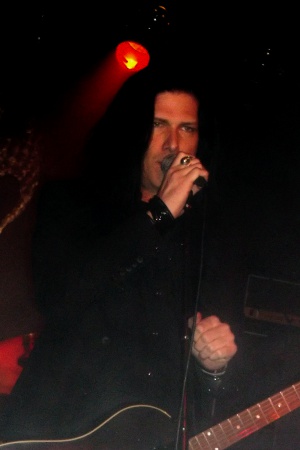 After being on the road with Slash for the past nine months, Las Vegas welcomed home Todd Kerns for his very special CD release Borrowing Trouble party at Vamp'd on June 2. The night was filled with many special guest stars including The Conspirators members Brent Fitz and Frank Sidoris.
Todd Kerns hit the stage with acoustic guitar in hand at 9 p.m. for a special acoustic set starting out with "It's Not You It's Me." Following with the first single off of Borrowing Trouble and the song "Nothing Personal." This song has a great rock vibe. There were many poignant moments during the acoustic set including the beautiful ballad "Indian Summer." Todd commented that you don't need blaring guitars to have a rock show and he was so right. His rock roots shined even on the ballads. The acoustic set also included new songs "The Maker", and "It's Always Been You." During the set Todd entertained the audience with his special storytelling of each song.
The acoustic set had many highlights including Todd bringing out his ukulele on the song "So Scandalous." Part two of the set included his Slash band members Brent Fitz and Frank Sidoris on a Jellyfish song and Slash song. Keeping the rock vibe going, Todd's band The Sin City Sinners joined him onstage for a few songs including "Arianna" and "Going To Vegas." It was a perfect night of ballads, and rock songs that showcased Todd's softer side. Be sure to check out The Sin City Sinners at Vamp'd this June, as the band unleashes the Summer of Sin concert series with special guests every Thursday in June.
Set List:
It's Not You It's Me
Nothing Personal
Devil In Me
This Changes Everything
The Maker
It's Always Been You
Hideous
So Scandalous
Jellyfish song
Not For Me
Arianna
Going To Vegas
Official Sin City Sinners Facebook: www.facebook.com/sincitysinners
Official Todd Kerns Facebook: www.facebook.com/toddammitkerns