Magnus Karlsson | Free Fall
by Joe Mis
– Senior Columnist —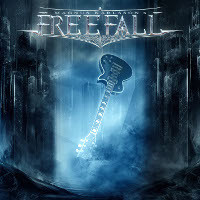 Wow! Amazing! Awesome! There is not much more that can be said about Free Fall, the solo debut of Primal Fear / Last Tribe guitarist Magnus Karlsson. The Swede proves himself to be a complete musician – playing everything but drums, and singing lead on three tracks. He is so much more than an ordinary guitarist. Magnus has gathered a vocal line up that is second to none, and the well written songs and strong performances on this release make Free Fall a must have for any fan of modern metal.
Karlsson's relationship with Frontiers Records goes back to 2000 when his band Last Tribe signed with the Italian label. In 2008 he joined Germany's Primal Fear and hasn't looked back. Magnus has also written for and produced a number of well-known artists and musicians, and his collaboration with these artists has led to Free Fall. Tailoring each song to the chosen singer, Magnus and drummer Daniel Flores have put out a refreshing album by a well-known guitarist that is NOT just about the guitars – although there are enough six-string fireworks to satisfy the most hard core guitar fan. This release is all about the music.
Massive guitar and keyboard histrionics open "Free Fall," but it becomes a powerful metal anthem filled with great guitar hooks and an insane lead break, and features Russell Allen's superb voice channeling a bit of Ronnie James Dio. Drummer Flores proves his mettle by keeping up with Karlsson's manic guitar and bass work. "Higher" is a pure power metal track with great guitars, but Ralf Scheepers gives perhaps the best vocal performance on the album – a fine example of the song written for the singer. Karlsson himself steps in front of the microphone for the uplifting modern rocker "Heading Out," and he also demonstrates his keyboard prowess – once again performing as the "total package" with only Daniel Flores backing him on the drums. Tony Harnell's silky voice highlights the soaring power ballad "Stronger," and Magnus shows that he has a "soft and sensitive" side by conveying a good deal of emotion throughout the track.
Intricate keyboard riffs quickly morph into a crunchy guitar-driven rhythm line on the slightly darker and very heavy "Not My Saviour" – a track that highlight's Karlsson's bass chops and the raw ability of Daniel Flores. Once again, Karlsson has written a track uncannily suited to Rick Altzi's gritty voice and gutsy delivery. David Readman's smooth vocals and Karlsson's slick guitars make "Us Against The World" a radio-friendly arena rock anthem with a great bridge, massive solo, and flowing undercurrent of keyboards. Mark Boals does a staggering job voicing the razor sharp "Our Time Has Come," a track filled with stinging riffs, squealing harmonics, and massive drums. Karlsson once again sings on the dynamic and upbeat "Ready Or Not" – easily his strongest vocal performance. Surprisingly, Magnus lets his vocals drive the song, with his superb guitar work only stepping to the fore during the bridge and solo.
"Last Tribe" has a symphonic-power-metal feel to it, once again perfectly suited to the singer (Rickard Bengtsson in this case). The chorus is epic. "Fighting" also has a somewhat symphonic opening, but is a real arena rocker through and through – an upbeat sing-along modern rock track with an infectious beat. "Dreamers & Hunters" is a progressive metal-tinged song with more prominent keyboards. Mike Andersson does a great job with the lead, and his voice floats nicely over the keys during the verse and manages to punch solidly through the guitars in the chorus. No guitarist's album would be complete without some acoustic guitars, and the opening of "On Fire" fills that niche. Magnus sings again with feeling and passion, a fitting finale to the CD.
No matter how you slice it, Magnus Karlsson's Free Fall is one of the strongest albums of 2013 to date, and a superb solo effort in every sense. This is not a guitarist's vanity release, but a sincere effort by a multi-talented musician / songwriter to create something special. Thanks to the support of his friends to back up his own vast talents, Karlsson succeeds admirably. This is an amazing release filled with great songs, excellent performances, varied styles and tempos – and is totally free of cliché! In short, it ROCKS!
Genre: Melodic Metal
Band:
Magnus Karlsson – Lead Vocals / Guitars / Bass / Keyboards
Daniel Flores – Drums
Guest Vocalists: Russell Allen (Symphony X / Adrenaline Mob), Ralf Scheepers (Gamma Ray / Primal Fear), Tony Harnell (TNT / Westworld / Starbreaker), Rick Altzi (Masterplan / Thunderstone / Herman Frank), David Readman (Pink Cream 69 / Voodoo Circle / Missa Mercuria), Mark Boals (YJM's Rising Force / Uli Jon Roth / Royal Hunt), Rickard Bengtsson (Last Tribe / Armageddon), Herman Saming (A.C.T. / Locomotive Breath), Mike Andersson (Cloudscape / Silent Memorial)
Track Listing:
1. Free Fall (vocals by Russell Allen)
2. Higher (vocals by Ralf Scheepers)
3. Heading Out (vocals by Magnus Karlsson)
4. Stronger (vocals by Tony Harnell)
5. Not My Saviour (vocals by Rick Altzi)
6. Us Against The World (vocals by David Readman)
7. Our Time Has Come (vocals by Mark Boals)
8. Ready or Not (vocals by Magnus Karlsson)
9. Last Tribe (vocals by Rickard Bengtsson)
10. Fighting (vocals by Herman Saming)
11. Dreamers & Hunters (vocals by Mike Andersson)
12. On Fire (vocals by Magnus Karlsson)
Label: Frontiers Records
Website: http://www.facebook.com/MAGNUSKARLSSONSFREEFALL, http://www.frontiers.it
Hardrock Haven rating: 9.5 / 10