Mahogany Head Grenade | Return to the Point of Departure
by Jenn Carbaugh
– Columnist —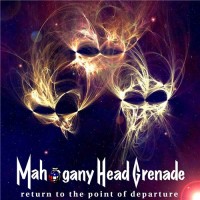 This Texas "instruMETAL" trio has released their debut album. Mahogany Head Grenade may be a trio, but the power that they put out sounds so much larger than expected. They are an instrumental band, and a compelling vocalist would be promising for them, but their sound is already gripping.
The band believes that instruments are what carry the melody and the overall music, and they certainly prove that with this album. This somewhat short album/long EP constructs music in a way that captivates listeners. It almost sounds as if vocals with happen at any second, but the instruments continue without a voice.
All five of the songs are different and shine in their own way. The track titled "Return to the Point of Departure" is such a stimulating tune to imitate the music. It is a track that is followed by songs that really showcase the guitar and bass abilities of this band. Vocals are not necessary to illustrate the talent of Mahogany Head Grenade. "Etude War Machine" has a riff that keeps your attention, but compared to the other tracks, it was the song that fell a little short. The final song, "Venetian Bricks," is powerful and heavy. It is metal at its finest, just without any words.
The entirety of the album is surprising for an instrumental trio. There is so much raw talent in terms of composition of the music as well as the overall outcome. This is definitely a recommended album.
Genre: Progressive Instrumental
Band:
Dan Hyer: guitar
Mike Pritcheet: drums
James Falcon: bass
Track Listing:
01. Return to the Point of Departure
02. Trouble for Trouble
03. Vinedresser
04. Etude War Machine
05. Venetian Bricks
Label: unsigned/independent
Website: https://www.facebook.com/mahoganyheadgrenade
Hardrock Haven Rating: 7/10