Neal Preston | Led Zeppelin: Sound and Fury
by Alissa Ordabai
– Senior Columnist —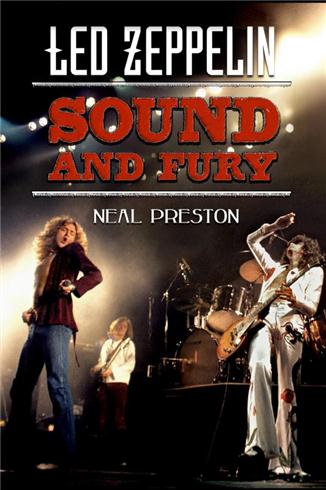 A photo album, a documentary film, and an audio memoir in one, the recently published digital book by the legendary photographer Neal Preston is a treasure trove of surprises not only for neophytes, but for seasoned Led Zeppelin fans too.
Preston has produced some of the finest images of Led Zeppelin shot at their prime – both on stage and off. So no wonder many photographs in this book are so well-known, they've become iconic. But there are also many that have never been seen the light of day before. Those taken of the band looking tranquil on board of their jet tell you as much about the mufti-dimensional reality of Led Zeppelin as the shots of them swathed in the curling glow of the dry ice mist on stage.
Part of the reason why we can now marvel at these jaw-dropping images is the full access Preston was given to the band in mid-Seventies, "the kind of access that nobody else had," according to Mitchell Fox of the Swan Song label. The other part of it is, of course, Preston's extraordinary gift as an artist, someone who understood the magnitude of his subjects' power and had the skill and the vision to convey it. But he also saw them as complete individuals with a down-to-earth human side he relayed in a variety of fascinating tones – poetic, mundane, mystifying, and also often humorous.
Far from retelling or repackaging already familiar stories, this i-book is brimming with unknown and little-known facts and anecdotes told not only by Preston himself, but by Led Zeppelin insiders such as Danny Goldberg, Swan Song label manager Janine Safer Whitney, and Atlantic artist relations Daniel Markus. Loyal ex-employees, they aim not to sensationalize, but to give you a taste of what it was like to be a part of the operation.
And their amicable tone drives home the point of Led Zeppelin being human (all too human) stronger than some of the recent tomes written with the sole purpose to settle old scores of access denied. As in photography, you can't have the picture without both light and shadow, and the hilarious, and at other times unsettling stories told in Preston's book ring true as tales of a different age about personalities of a different magnitude from the rock stars of today.
Speaking of the rock stars of today, the less entertaining parts of the book are commentaries on the musical grandeur and significance of Led Zeppelin submitted by characters ranging from members of Mutemath to My Chemical Romance. Beef up the page count they do, but it's for each of us to decide for ourselves whether they are telling you anything about Led Zeppelin you haven't known already. Although you will find out plenty about lesser bands' childhoods, adolescence, first sexual encounters, and other trivia.
Numerous proof sheets in the book also appear as slightly confusing. Preston has been in the habit of including them in his previous publications too, and they always come through as teasers as opposed to decipherable material. One is offered for sale for $500 USD when you follow a link at the end of the book. While the item being sold measures 20 by 24 inches, the ones included in the book are of the size that doesn't allow you to see much apart from who is portrayed there and – if you are lucky – what the general mood of the shot is.
But there are hundreds of photographs here of wonderful clarity and size, as well as samples of memorabilia, set lists, not to mention a beautifully written introduction by Stevie Nicks. There is also technical camera info (a glimpse into a previous technological age) and – most importantly – Preston's own commentaries for some of his best photographs.
Those alone make the book worth buying. It turns out, for example, that one of the most powerful portraits of Page in existence is – bizarrely enough – a passport photo taken by Preston, which to this day remains perhaps the most revealing image of his subject's inner strength and vulnerability. Another example is the famous shot of Page and Plant sitting side by side, Page in his stage suit with a bottle of JD in hand, both immersed in what seems like deep conversation, but in fact – as we find out from Preston – of them watching the Eagles performance on TV.
Photographs that perpetuated the myth of Led Zeppelin for generation after generation are for the first time being given an in-depth context. No words or insight – even from the insiders – will ever fully explain the phenomenon of Led Zeppelin, but this is as close as we get to connecting the images of the band's golden era with the historical background for a better grasp on their legacy.
With new technology bringing together all media to create an authentic image of the band in one package, this book is indispensable for a deeper understanding of some of the most compelling forces in the history of rock and of our collective culture. Not to mention that the book is perhaps the most entertaining, visually impressive, and good-humoured publication on Led Zeppelin to date.
Print length: 312 pages
Official trailer: