Neverfriend | Dangerously Addictive
by Joe Mis
– Senior Columnist —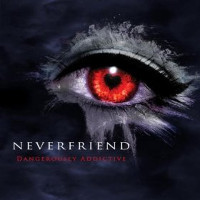 Dangerously Addictive is the second release from Canadian punk/alternative rockers Neverfriend. Raw and aggressive, it manages to capture much of the genre's base appeal and gives it a slightly more modern sound without altering its old school underpinnings. "Dark social commentary" is probably the most apt description of the band's theme, much as it was back in the early days of the punk scene. Neverfriend carries the banner proudly on this six song release.
Founded back in 2006 as Stereovision by the husband and wife team of Fraser and Gina Smith, the band underwent a few changes in personnel and style, picking up a harder edge while melding alternative rock, metal, and punk influences into what has become Neverfriend. Lyrically not for the faint of heart, their songs focus on topics like addiction, abuse, pain, and survival. Gina Smith fronts that band and contributes some guitars. She has a gritty, expressive voice ideally suited for the punk influenced music, but on a few occasions she seems to overstep her natural range causing her voice to thin out. Primary guitarist Fraser Smith lays down some strong rhythm lines, big hooks and solid riffs. Unfortunately as with many modern rock acts, it seems that the idea of a guitar solo is for some reason taboo. Bassist Logan Bennett and drummer Mike Berrigan complete the quartet, and both handle their duties admirably. Bennett in particular has awesome bass chops and can bring the instrument forward without dominating the rest of the band.
"Bad For You" opens with massive bass and drums, and Gina's gritty vocal line make this the band's showcase track. The strong guitar rhythms and biting, raw sound capture the essence of punk. Super heavy rhythm guitars and booming drums are an interesting contrast for Gina's higher (and occasionally squeaky) vocals on the energetic "Chick Is So High." "Break You" is a slower song that allows the drums to drive the music. For some reason rather than taking a softer approach, Gina seems to be straining while she sings – which really does not suit the lyrics, tone and tempo of the track, making this one rather disappointing. "Faker" features an awesome guitar line and some very angry vocals, while the moody "Succum" lives on top of a strong bass line. Gina really sings on this track, and it is nice change from the constant grit and growl of the previous songs. The very moody "These Pills" wraps the short album (long EP?) with strong performances from all.
Dangerously Addictive is a strong attempt at capturing the punk / alternative spirit. Despite a few rough spots, Neverfriend is setting itself up as a band to watch in their chosen genre. Their music may be too edgy or dark for the casual listener thus inherently limiting their commercial appeal, but their raw sound will find a solid following among those who dislike the commercialization of modern rock. While they may not get much mainstream radio airplay (but then what punk band ever really did?…), Neverfriend will appeal to the rebellious among us, and old school punk fans who are looking for a simple, solid musical kick to the head. With just a little more polish and a touch more diversity in style, Neverfriend has a real shot at success.
Genre: Alternative, Punk Rock
Band:
Gina Smith (vocals, guitar)
Logan Bennett (bass, backing vocals)
Mike Berrigan (drums, backing vocals)
Fraser Smith (guitar)
Track Listing:
1. Bad For You
2. Chick Is So High
3. Break You
4. Faker
5. Succum
6. These Pills
Label: Independent
Website: http://www.neverfriend.com
Hardrock Haven rating: 7/10