by Matt Karpe
– Columnist —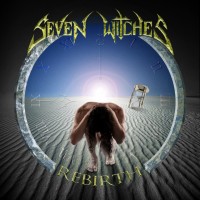 Rebirth is an apt title for Seven Witches ninth studio album.
Founding member Jack Frost continues to show off his innovative guitar skills, and is joined by Ronnie Parkes on bass and Johnny Kelly on drums. The line-up is completed by new vocalist Anthony Cross who replaces Alan Tecchio.
Cross' gritty vocals take the band in a slightly different direction, however Rebirth is still a powerful heavy metal record.
Opener "Man In The Mirror (Enemy Within)" begins with punishing drumming and crushing guitar riffs as Cross' singing provides an excellent modern metal anthem and a very good start to the album.
"Claustrophobic (No Way Out)" continues in the same mould as the previous song, with a good bass hook from Parkes, superb drumming once again and a guitar solo that solidifies Rebirth's early promise.
"Nightmare Man" is decent power metal that sounds like early Metallica, and "Stand Or Fall" has some great distortion from Frost's magical axe.
"Head First" has a Sabbath-like feel, with gloomy guitar work that eventually explodes into good '80s style metal. Also featured on this track is the most melodic chorus as Cross beautifully sings "The Earth is slowly dying, the sky forever crying…" This is the standout track on Rebirth.
Closer "Poison All The People" is in places, the heaviest track musically. Former singer Tecchio returns for full vocals in which he shows excellent diversity. One minute his high pitch shrieking sounds like classic Halford, and the next he is regurgitating doom-like howls that could darken the brightest sunset. The track also has progressive moments reminiscent of Opeth — haunting and slightly bluesy, ending the album on a high.
All in all Rebirth is a pretty solid release. At just under forty minutes long, it is an album that flows well without any prolonged instrumental which can often be a downfall with heavy metal.
Frost's guitar work is sublime, as is Kelly's drumming; some of the best kit banging you will hear this year.
Perhaps one of the negatives comes to mind as you listen to the last few minutes of the album. As Tecchio sings, screams and howls on his one track cameo, it's a little bit more memorable than Anthony Cross' contribution on his nine tracks, as his vocals seems to be slightly one dimensional. He is without doubt a decent vocalist, but he lacks diversity in his vocal range.
Regardless, Rebirth is a strong heavy metal album and Seven Witches should be proud of it.
Genre: Heavy Metal
Band:
Jack Frost- Guitar
Ronnie Parkes- Bass
Johnny Kelly- Drums
Anthony Cross- Vocals
Track Listing:
1. Man In The Mirror (Enemy Within)
2. Claustrophobic (No Way Out)
3. Nightmare Man
4. Stand Or Fall
5. Hang 'em High
6. True Blood
7. Head First
8. Rebirth
9. Riders Of Doom
10. Poison All The People
Label: FrostByte Media
Webpage: www.jfrost.us
Hardrock Haven Rating: 7/10