Sister Sin | Dance of the Wicked
by Jenn Carbaugh
– Columnist —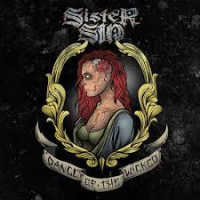 Swedish heavy rockers Sister Sin, who happen to be female-fronted, have a re-mastered version of their first studio album Dance of the Wicked. It includes all eight tracks from the original album, three bonus unreleased demo tracks, and two cover songs. There is also new artwork and a poster that is included. This is the only album with Johnny Sinn, who was later replaced by Jimmy Hitula.
This band has been around for a decade now, and re-releasing their first album shows the hard work that they have completed to earn their spot. This is new ground for them that illustrates their hard rock '80s style.
Liv Jagrell left Hysterica to front Sister Sin in 2003, and music history has been made since that point. The album begins with "Kiss the Sky," and it has a synthetic live sound to it. From that point on you can hear a Motley Crue sound in songs like "Into My Dreams" and "Love Lies." The '80s comparisons continue with songs like "Minor You (Minor Me)." Twisted Sister is certainly a band that comes to mind with these familiar '80s sounds. The entirety of the album can just be labeled a flashback but in the best way possible.
The cover of "Paint it Black" is top notch and can be thought as good as that of W.A.S.P's rendition. Jagrell's voice leaves chills with a haunting hum over the well-known tune. "Rock 'N Roll" is another smooth cover that is done quite well.
Each song is an anthem that sounds like spandex and bandanas, but it still included a good head bang throughout the re-mastered album. This is something new done to something that may never get old.
Genre: Heavy Metal, Glam Metal
Band:
Liv Jagrell – vocals
Johnny Sinn – guitar
Strandh – bass
Dave Sunberg – drums
Track Listing:
01. Kiss the Sky
02. Dance of the Wicked
03. Fall Into My Dreams
04. End of the Beginning
05. Love Lies
06. Dirty Damn I
07. Paint it Black (The Rolling Stones Cover)
08. Tragedy Loves Company
09. Minor You (Major Me) (Demo)
10. Writings on the Wall (Demo)
11. Head Over Heels for Love (Demo)
12. Rock 'N Roll (Feat. Doro Pesch) (MOTÖRHEAD cover)
Label: Victory Records
Website: http://www.sistersin.com/
Hardrock Haven Rating: 8/10