by Jenn Carbaugh
– Columnist —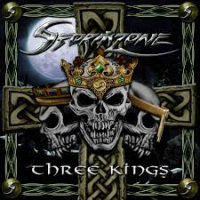 Stormzone has released their fourth studio album, Three Kings. This band that hails from Ireland has been around since 2006. Right off of the bat, the album begins with a military-like sound. There are drum rolls, melodies similar to an anthem, and Churchill's speech on top.
John Harv' Harbinson's voice is the key element to this album that makes everything sounds pretty good. "Spectre" is a great song that uses simplicity to hit all of the right sounds. There are great riffs and sharp vocals that give way to multiple scales.
"Alive" is a song that certainly highlights more than the great vocals that are obviously present on this album. The bass line is like low thunder that resonates for awhile. The speed picks up, and there is a different sound all together. There is also always a ballad that adds to the breaking up of the album, and "Beware in Time" is a ballad that is done up to par.
Each song has a tip of the hat to '80s glam metal. That sound continues to peak through tracks like "Night of the Storm." "Three Kings" brings life to the sound to the album. There is a steady pace that picks up more quickly than some of the other tracks. It is a fist-pumping song that has the anthem ability to get a crowd going.
The in-your-face songs seem to be the more successful of the album. "I am the One" is another track that seems to illicit higher attention like that of "Three Kings." It begins sounding sweet but quickly switches to a heavier sound that has effective guitar solos and a foot-tapping beat.
"B.Y.H." stands for "bang your head," and this song is yet again anthem-like in its progression. It is not a bad thing, but it is somewhat expected as the songs meander down. The album ends up being like a well sounding seesaw. One minute there is a great '80s tune, and then a little bit of heavier metal peaks its head through the next track. It works for this band to a degree.
Overall, this album is good. It is just good, not great. It does illicit a recommendation, but it is something that may have been heard before. There is a line in "B.Y.H." about the music staying alive. There are other bands and other songs with a similar sound that are staying alive, so there is a question as to how many of these '80s sounds should stay alive?
Genre: Heavy Metal
Band:
John Harv' Harbison – lead vocals
Steve Moore – guitar and vocals
David Shields – guitar and vocals
Graham McNulty – bass and vocals
Davy Bates – drums and percussion
Track Listing:
01. The Pain Inside
02. Spectre
03. Stone Heart
04. Alive
05. Night of the Storm
06. Beware in Time
07. Three Kings
08. The Pass Loning
09. I am the One
10. Wallbreaker
11. Never Trust
12. B.Y.H.
13. Out of Eden
Label: Metal Nation Records
Website: www.reverbnation.com/stormzone
Hardrock Haven Rating: 6/10